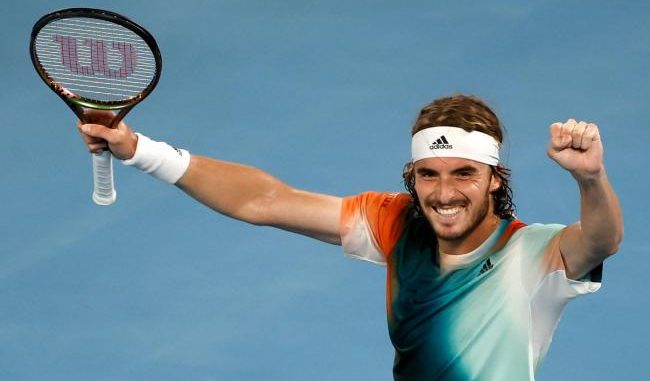 Stefanos Tsitsipas came into the Australia open after an elbow surgery but he has maintained his play and reaching the Grand Slam quarter finals. Tsitsipas (No. 4) has come through to the semi finals after thrashing Jennik Sinner.
Tsitsipas, 23, beat Sinner (No. 11) 6-3, 6-4, 6-2 Wednesday to reach the last four; and earning the world No. 4 an opportunity to face either Daniil Medvedev or Felix Auger-Aliassime in his third Australian Open semi-final.
It is the third time in three years that Tsitsipas, has made it to the last four.
In the match that lasted two hours and six minutes, the No. 4 didn't face a break point and converted all four he got on Sinner's serve compared to his five-set fourth-round victory over Taylor Fritz.
Tsitsipas had erased any notion his elbow would prove a hindrance in his pursuit to break his grand slam duck in a five-set thriller against Taylor Fritz, but Sinner was the face of tennis' next generation after dropping just one set on his way to the final eight.
Even Tsitsipas' doctor, who helped him through recovery from elbow surgery, doubted him.
"We both didn't expect for me to play this well at Aus Open," Tsitsipas said with a smile acriss his face in a post-match.
"He certainly told me, 'I don't see you playing in Australia'. But I proved him wrong," he added.
"I proved him wrong."

A message for Dr. Frank 😉

#AusOpen • #AO2022 • #Aointerview pic.twitter.com/q96QaQ2XAP

— #AusOpen (@AustralianOpen) January 26, 2022