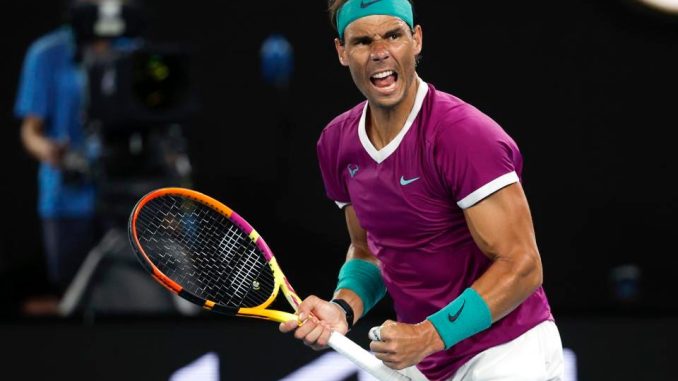 Rafael Nadal is on the way to make the record of a 21st Grand Slam singles title should he win Sunday's final.
Nadal secures his position for the semifinal after beating Matteo Berrettini of Italy in four sets 6-3, 6-2, 3-6, 6-3 and will now face either or Stefanos Tsitsipas or Daniil Medvedev in the final on Sunday.
The Spaniard, reflecting on his journey to yet another Grand Slam championship match and breaking the record of 20 majors he shared with rivals Roger Federer and Novak Djokovic after struggling with a foot injury and didn't play at all after August last year.
Making it This Far After An Injury
For Nadal playing Tennis meant everything to him even though before the Australia Open he couldn't tell if he was going to play Tennis again.
"A month and a half ago I didn't know if I would be able to play tennis," Nadal said in his post-match on-court interview. "So it doesn't matter, I just wanted to enjoy it and try my best."
Nadal arrived in Australia not knowing how long he'd last after months off the tour while dealing with a foot injury and then a bout of COVID-19. 
"For me it's all about the Australian Open more than anything else, no?" the Spaniard said. "It's just an amazing event. I have been a little bit unlucky during my career with some injuries and other times I played amazing finals with good chances against Novak 2012, against Roger 2017. I was close a couple of times, I feel very lucky that I won once in my career.
"But I never thought about another chance in 2022, so just try to enjoy the victory of today and after tomorrow I'm going to try my best."
Nadal lost five-set finals here to Djokovic in 2012 and Federer in 2017 at the Australia open. Again, he lost in four sets to Stan Wawrinka in 2014 and had a straight-sets defeat to Djokovic three years ago.
Nadal was the only one from the "Big Three" who had a chance in Australia this time because his rivals Federer and Djokovic missed this opportunity.
Federer missed the tour to continue his recovery from knee surgery and Djokovic failed to meet Australia's strict COVID-19 vaccination requirements.
With the roof closed on the Rod Laver Arena due to weather condition in Melbourne and creating an atmosphere that potentially might have favored Berrettini — Nadal took a two-set lead after producing tennis that he said was the "best I've played for a long time."
Unlike the quarterfinals Nadal suffered through a five-set thriller against Denis Shapovalov but he looked different against Berrettini.
Meanwhile Berrettini's quarter-final win over Gael Monfils won him the first Italian man to reach the Australian Open semi-finals, but he is still seeking his first win over a Top 10 player at a Grand Slam.
Getting this far and preparing for the 29th grand slam final in his career Nadal believes one need to fight.
"We need to suffer and we need to fight. That is the only way to be where I am today. Honestly, it means a lot to me to be in the final here again," Nadal said.