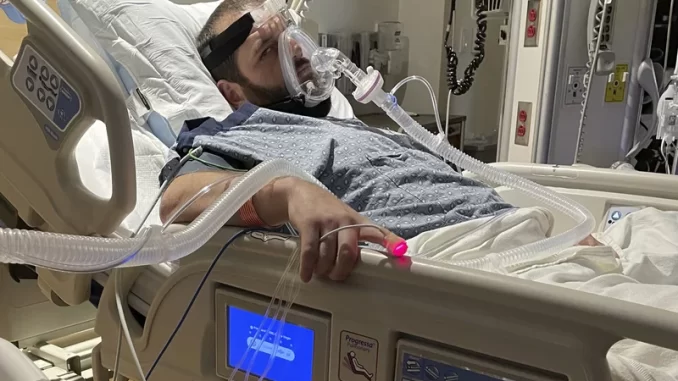 Brigham and Women's Hospital denied a patient a heart transplant and is defending itself saying most transplant programs around the country set similar requirements to improve patients' chances of survival.
The patient, 31, and father of two while expecting a third, has undergone an open heart surgery to fit a pump that will only sustain him another five years after he was refused a transplant.
The D.J. Ferguson family of said this week during a fundraising that officials at the Boston Hospital executives told the 31-year-old patient that he was ineligible for the procedure because he hasn't been vaccinated against the coronavirus.
Ferguson was concerned about side effects and the duration with which the vaccines were developed, his mother, Tracy Ferguson has said.
"We are literally in a corner right now. This is extremely time sensitive," the family said in its fundraising appeal, which has raised tens of thousands of dollars. "This is not just a political issue. People need to have a choice!"
Perhaps because of the politicization of Covid-19 vaccines more broadly, the reaction to such decisions is sometimes greeted with outrage. However, ethicists and transplant physicians stress that organ allocation has to be partially determined by who can survive and thrive with a scarce resource. And with so many people on the waiting list for an organ transplant, clinicians try to maximize the chances of a successful transplant. Hospitals don't want to allocate an organ to people who are putting themselves at higher risk of dying after a transplant — when that organ go to a patient who stands a higher chance of survival.
Brigham and Women's Hospital on a response posted on its website, it said that the COVID-19 vaccine is one of several immunizations required by most U.S. transplant programs, including a flu shot and hepatitis B vaccines.
The Boston hospital said research has shown that transplant recipients are at higher risk than non-transplant patients of dying from COVID-19, and stand on the fact that its policies are in line with the recommendations of the American Society of Transplantation and other health organizations.
Dr. Arthur Caplan, the head of Medical Ethics at NYU Grossman School of Medicine, told CBS Boston that vaccination is a requirement for transplants because, after receiving a new organ, patients' immune systems are automatically turned off.
"The organs are scarce, we are not going to distribute them to someone who has a poor chance of living when others who are vaccinated have a better chance post-surgery of surviving."
Other requirements are that patients also must meet other health and lifestyle criteria to receive donated organs.
 A research with data from more than 50 transplant centers during the early periods of the Covid-19 revealed that mortality rate among hospitalized organ transplant recipients was 20.5%.
According to more recent data which suggest that as physicians got to know more and improved better at treating Covid-19, outcomes also improved for transplant recipients.)