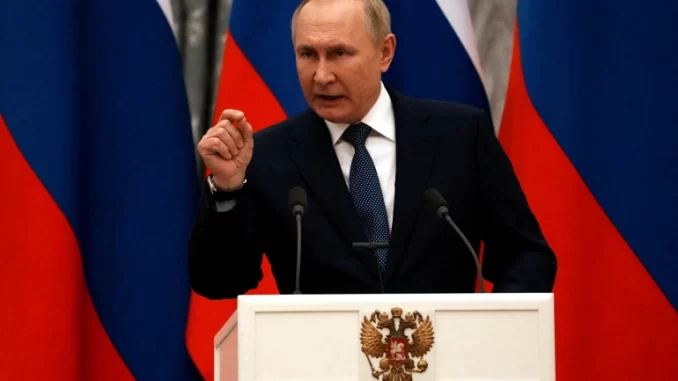 There has been speculation that this may have been a planned exercise that could be part of Russia's strategy for conflict avoidance.
Putin said that if it didn't take place, the entire Ukraine would turn into a failed state, which would endanger other countries.
Putin speaking at 61st anniversary of Yuri Gagarin becoming the first man in space, he insisted that his forces are aiding oppressed people in separatist regions of Ukraine. He said Ukraine was invaded to protect the Russian speaking Donbas region.
He said "On the one hand, we are helping and saving people, and on the other, we are simply taking measures to ensure the security of Russia itself."
He said "it's clear that we didn't have a choice. It was the right decision," adding that "the goals are perfectly clear, they are noble."
And more than 10 million people have flee their homes since Russia's invasion.
The United Nation says 10 million people have fled their homes since the invasion began.
So far the Russian economy has been slapped by many severe sanctions imposed by Western world. However, Putin said that Russia does not "intend to be isolated", saying that it is "impossible to severely isolate anyone (country) in the modern world, especially a huge country as Russia".
During a public appearance marking the 61st anniversary of Yuri Gagarin becoming the first man in space, from the Vostochny Cosmodrome, about 3,450 miles (5550 km) east of Moscow.
The Russian leader drew upon the success of the Soviet space programme, thereby comparing Gagarin's achievement during the Cold War to Russia's current international isolation.
He said "the sanctions were total, the isolation was complete but the Soviet Union was still first in space."
Russia claims that Ukraine has committed genocide against Russian speakers in eastern Ukraine, though there is no evidence to suggest that is the case. Currently, in the besieged city of Mariupol, there are reports of 22,000 people dead.
Belarusian President Alexander Lukashenko and a close alley of Putin on Tuesday strongly defended Russia's actions in Ukraine, saying that if Russia was "just a little late with its military operation, the Russian territory would have suffered a crushing attack at its borders."
"If somebody wishes to scream that we went somewhere we shouldn't have, started something we shouldn't have, just imagine what you would have had happened had you been at least two weeks or one month late," Lukashenko told reporters during a joint news conference with his alley Putin following a meeting between the two leaders in Russia's far east Amur Region.
The Belarusian leader further blamed "Washington, Brussels and London" for causing the crisis in Ukraine, and said the economic sanctions against Russia were "psychological operations" set up by the United Kingdom. He also went on to accused the US of instigating Poland and Baltic countries against Russia.
He said "our recent history has not seen such a dangerous moment in our relationship with the West as today. Some of you said the Cold War is over and we shall live in a new civilized era based on mutual understanding and supremacy of international law. We thought so, but the West didn't; they didn't destroy us then, so they decided to start now".