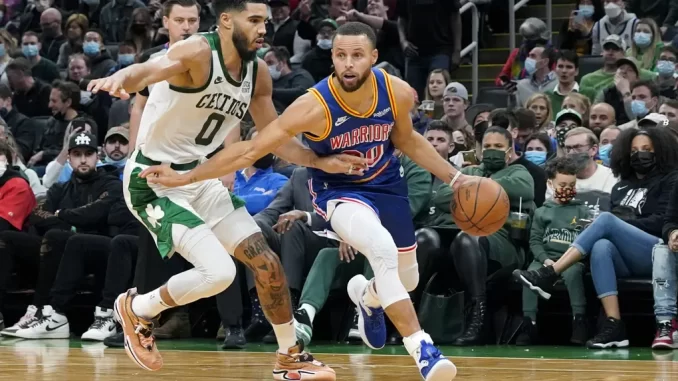 The Boston Celtics in a crazy win launched a stunning fourth-quarter fight to turn Game 1 on its head, and go up 1-0 in the NBA Finals behind a 120-108 road win.
And Game 1 of the NBA Finals is officially in the books.
It was going so well for the Warriors before the Celtics takeover, however, the warriors have been noted for their third-quarter runs during their dynastic run and so it proved here. They outscored the Celtics 38-24 in the third to turn a two-point half-time deficit into a 12-point lead. But Celtics fought back, and they did so with gusto, reducing it to three by the midway point in the fourth.
Jayson Tatum had just 12 points on 3-of-17 shooting, but it was Al Horford (26 points), Jaylen Brown (24 points), and Derrick White (21 points) who caught fire in the fourth quarter to stun the favourites in San Francisco.
Steph Curry set the NBA Finals record for three-pointers made in a quarter with six in the first quarter, you thought wrong that the Warriors would have blown out their opponent.
Curry still finished 7-of-14 from long rang and 12-of-25 overall for 34 points, with five rebounds and five assists. His 21 points are the most points scored in the first quarter of any Finals game over the last 50 seasons. And hitting six in the first to beat the previous record of five shared by him, Ray Allen and Kenny Smith
He set a new NBA Finals record for 3-pointers made in a single quarter to records of five Curry himself, Ray Allen and Kenny Smith.
Chef Curry was cooking up in Q1 👨‍🍳

🔥 6 3PM | 21 PTS 🔥

Q2 Live Now on ABC pic.twitter.com/RthSWFC83h

— NBA (@NBA) June 3, 2022
The Warriors, with Klay Thompson leading the way with 15 points, had just the one point more than the Cavs, who were missing LeBron James.
No Boston Celtics had a player who had appeared in the NBA finals before.
Celtics Al Horford, playing in his first-ever NBA Finals and it was massive. Al has shown glimpses of taking over games during this postseason run, and many wondered what kind of impact he would have in the NBA Finals. Well he disappoint as he absolutely rounded up in Game 1 and was a key part of the Celtics' massive fourth quarter in which they outscored the Warriors 40-16.
Al and White combined to shoot 11-of-16 from three.
"To beat Boston if they're making 21 threes, and they're getting a combined 11 from Horford and White (is going to be tough)," Warriors head coach Steve Kerr told reporters.
Marcus Smart scored 18 points with four threes for Boston. The Celtics point guard and Defensive Player of the Year took criticism from Steve Kerr for what the Warriors head coach called "a dangerous play" lunging at Curry's left foot on March 16 in a 110-88 Boston rout that sidelined the 2021 scoring champion for a month before his return in Game 1 of the first round facing Denver.
Golden State will host Game 2 on Monday (AEST), knowing they need to win.
As the Celtics are looking forward to capture their record-breaking 18th title, which would move them past the Lakers, and they are just three wins away from doing that.
While the Warriors, who are looking for a fourth title in eight years will have to win this one from behind after being 21-2 in their previous (Game 1)s under head coach Kerr.