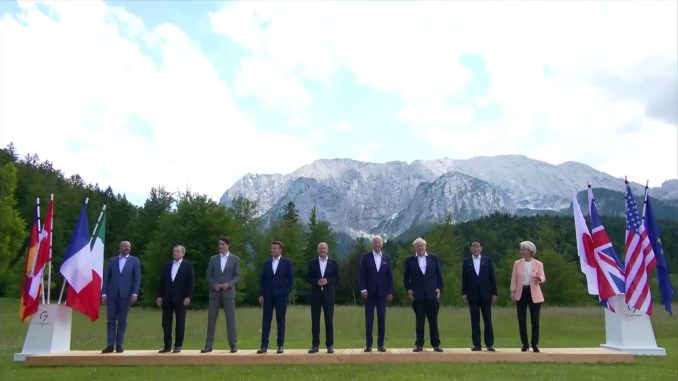 The Group of Seven (G7) leaders with wealthy economic powers are meeting in the Bavarian Alps this week to relaunch global investment and infrastructure partnerships, with support for Ukraine foremost on the agenda.
The leaders of the G7 nations have promised to raise $600bn over five years to fund infrastructure projects in developing countries. They've also pledged to put money into fighting climate change through innovative solutions like carbon pricing.
The G7 leaders met this weekend in the Bavarian Alps to discuss global infrastructure and investment. They relaunched the newly renamed Partnership for Global Infrastructure and Investment, as well as discussed climate change, trade and financial stability.
The U.S. will mobilise $200 billion in grants, federal funds and private investment over five years to support projects in low and middle-income countries that help tackle climate change as well as improve global health, gender equity and digital infrastructure.
President Joe Biden said developing countries often lack the essential infrastructure to help navigate global shocks, like a pandemic, so they feel the impacts more acutely and they have a harder time recovering.
He stressed that's not just a humanitarian concern, but it's an economic and a security concern for all of us.
"I want to be clear". "This isn't aid or charity. It's an investment that will deliver returns for everyone," Biden said, adding that "it would allow countries to see the concrete benefits of partnering with democracies."
President Joe Biden said hundreds of billions of dollars more can be provided by multinational development banks, development finance institutions, and other international institutions.
European Commission President Ursula von der Leyen told the gathering, Europe will mobilise $317bn over the same period to build up a sustainable alternative to China's Belt and Road Initiative scheme launched in 2013 by president Xi Jinping.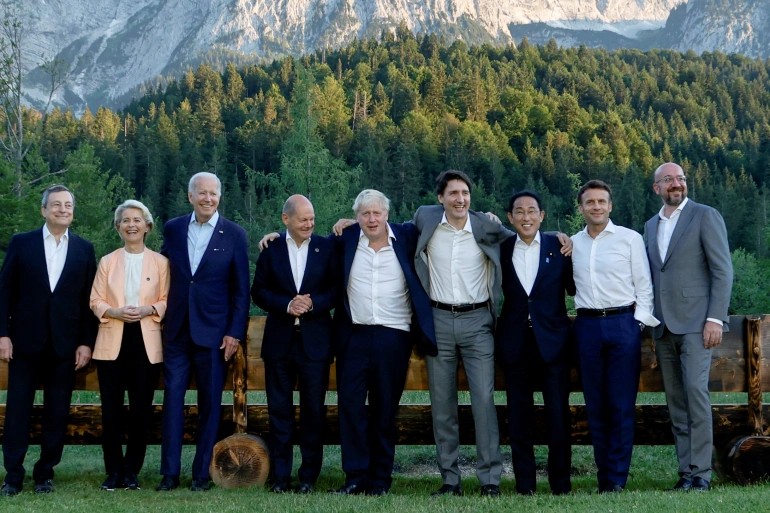 China's investment strategy involves development and programmes in more than 100 countries aimed at creating a modern version of the ancient Silk Road trade route from Asia to Europe.
Projects cited at the meeting include a secure sub-sea cable linking Europe and south-east Asia, an industrial MRNA vaccine plant in Senegal, solar projects in Angola, a modular nuclear reactor plant in Romania and a port linking Christmas Island with the rest of the world.
Washington together with the others has provided $3.3 million in support to Institut Pasteur Dakar to enable the group to develop an industrial-scale, flexible, multi-viral production facility that could eventually produce COVID 19 and other vaccines. This project will also involve the European Union.
Up to $50m will be committed by the US Agency for International Development to the World Bank's global Childcare Incentive Fund over the next five years.
Again, G7 leaders have vowed to impose new sanctions on Russia's ability to import technologies for its arms industry as they promised to step up their security commitments to Ukraine.
The G7 also said it would impose targeted sanctions on Russians responsible for war crimes committed in Ukraine and those who were exacerbating "global food insecurity" by "stealing and exporting Ukrainian grain".
India's Prime Minister Narendra Modi is one of the five guest nation leaders joining the G7 for talks on climate change, energy, health, food security and gender equality on the second day of the summit.
Indonesian president is also in attendance at the G7 summit, and German Chancellor Olaf Scholz did not rule out boycotting the Group of Twenty summit in Indonesia in November if Putin attended.
Russia's actions in Crimea and Ukraine have been in violation of international law and the UN Charter, which Russia signed as well.
Activists fear that Western nations are watering down their climate ambition as they search for alternative sources of energy and rely more heavily on coal, a dirtier fossil fuel, instead of natural gas.