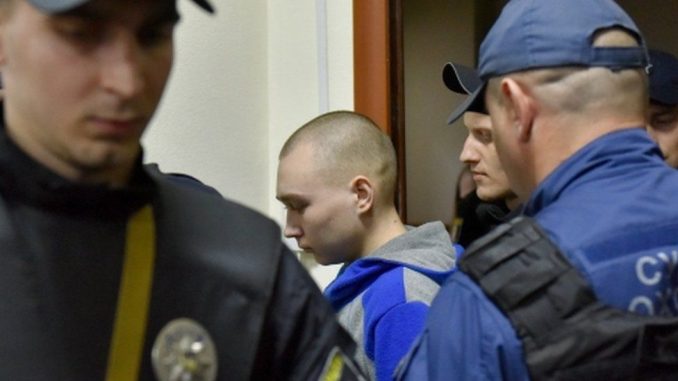 A Russian soldier, Sgt Vadim Shishimarin was sentenced to life in prison on Monday for killing an unarmed man in Ukraine's first war crimes trial since Russia's invasion.
The Russian tank commander, had pleaded guilty to shooting a 62-year-old civilian to death on the fourth day of the invasion in late February.
Sgt Shishimarin was captured and was convicted of killing Oleksandr Shelipov in the north-eastern village of Chupakhivka on 28 February.
In delivering the verdict on Monday in a court in Ukraine, the court said that Shishimarin had "committed a criminal offense" according to international humanitarian law.
"Shishimarin saw a civilian on the pavement, Oleksandr Shelipov," the court said. "Shishimarin knowing that Shelipov is a civilian and is unarmed and does not pose any threat to him, fired several shots at Shelipov from his AK-gun."
"The cause of Shelipov's death was a shot in the head that resulted in crushing of the skull," the court added.
The sentence may be appealed within 30 days.
Sgt Shishimarin admitted to shooting the civilian but added that he acted on orders and asked forgiveness of the man's widow.
There are many other alleged war crimes being investigated by Ukraine, hence is likely to bring more cases like this to proof Russia's blanket denials.
Moscow has always denied its troops have targeted unarmed civilians, despite a dozen of evidence to suggest the contrary, mean while Ukraine says there has been more than 10,000 crimes committed.
Prosecutor Andriy Sunyuk said the possibility of more war crimes trials against Russian troops has stated, and said he hoped Shishimarin's conviction could send a message.
He said "I think that all other law enforcement agencies will move along the path that we have traveled."
"This will be a good example for other occupiers who may not yet be on our territory but are planning to come," said. He added that "or for those who are here now and plan to stay and fight. Or maybe they will think that it's time to leave here for their own territory."
Shishimarin, who watched proceedings silently from a reinforced glass box in the courtroom showed no emotion as the verdict was read out.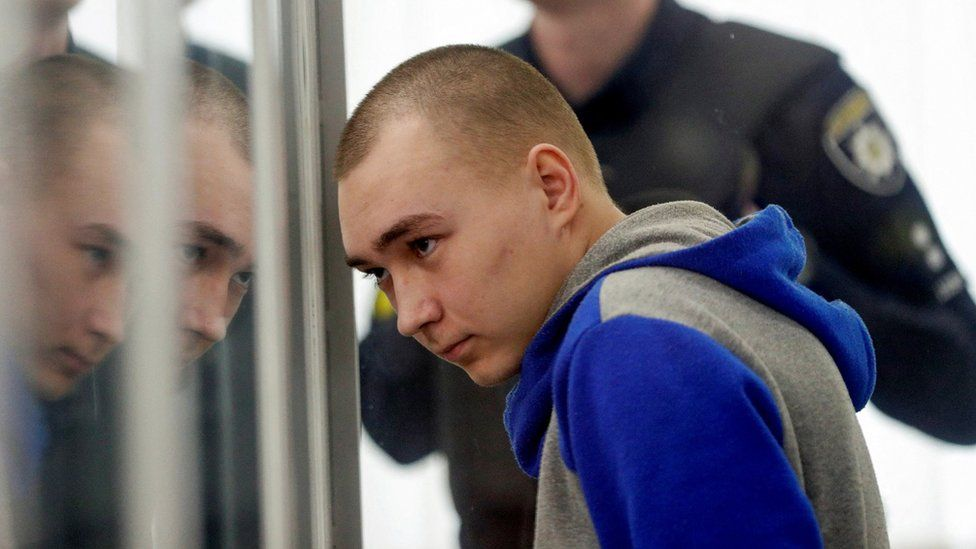 His lawyer, Viktor Ovsyannikov said they will appeal the verdict.
And Kremlin's is already acting in response with laws being drafted and courts being set up to try some Ukrainian prisoners as war criminals in Russia.
Russian presidential spokesperson Dmitry Peskov said the Kremlin is "concerned" about Sgt Shishimarin and will seek all possible ways of assisting him.
"Of course, we are concerned about the fate of our citizen," Peskov told reporters on a regular conference call.
"We do not have many opportunities to protect his interests on the ground, as foreign institutions actually have no activity [in Kyiv]. But this does not mean that we will not consider the possibility of making attempts through other channels," Peskov added, without clarifying which channels he was speaking about.
Peskov previously said Russia considers the charges "unacceptable," "outrageous" and "staged." 
How a Civillian was skilled?
Sgt Shishimarin who served in Russia's Kantemirovskaya tank division said he acted on orders.
At the time of the killing, he and other soldiers were on the move travelling in a car they had seized after their convoy came under siege and they became separated from their unit.
At the time when they spotted Mr Shelipov he was speaking on his phone, Shishimarin told the court. He said he was ordered to shoot him with an assault rifle.
His defence lawyer told the court, Shishimarin only fired after twice refusing to carry out the order to shoot and that only one out of three to four rounds had hit the man.
He said out of fear, Shishimarin fired the rounds for his own safety and questioning whether the defendant had intended to kill.
The victim's widow Kateryna Shelipova was present in the court and in one dramatic moment confronted Shishimarin. "Tell me please, why did you come here? To protect us?" she asked, citing Russian President Vladimir Putin's justification for the invasion of Ukraine.
Shishimarin told her: "I understand that you will not be able to forgive me, but I am sorry."
The woman questioned the Russian soldier as to why he came to Ukraine, asking rhetorically: "Did you come to defend us? From whom? Did you defend me from my husband you killed?"
"We were ordered to come with the column, what will follow I did not know," Shishimarin said.
He said he was "fully guilty" when he entered a plea on Wednesday and, on Thursday he was forced to confront his victim's widow.