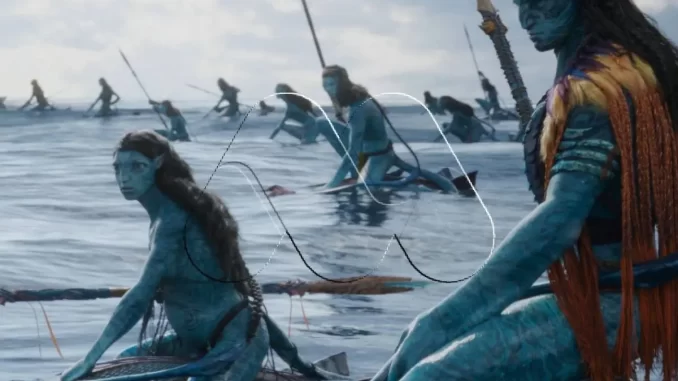 After thirteen years of waiting, audiences' have the chance to look at the magnificent "Avatar 2″ as it is finally here.
The international blockbuster known as James Cameron's Avatar in 2009 was once named "Project 880". The movie Topped the charts for the highest-grossing releases of all time.
The world finally got its first look at Avatar 2 and it was in theaters last week, before the first trailer dropped online.
Avatar 2: The Way Of Water was supposed to be in the theaters just for a week. But then, for some reason Disney's 20th Century released it online early this morning.
If you haven't seen it yet, it's an impressive one, so magnificent and ocean-centric, that looks even better if you try it in 3D. Below is the teaser to watch:
The teaser's brief preview is the triumphant return to the vibrant world of Pandora, characterized by healthy ecosystems, majestic creatures, floating islands with thriving Indigenous communities.
Jake Sully and Neytiri's return to the big screen is splendid, bringing us back to Pandora with the remarkable introduction of its oceanic moon.
The main cast again are Michelle Yeoh, Stephen Lang, Cliff Curtis, Joel David Moore, CCH Pounder, Edie Falco, Jemaine Clement and Kate Winslet.
There are four Avatar sequels coming out, which means tis first trailer The Way Of Water has to be good enough to get audiences hungry for the prospect of three more sequels to be watched in the years to come.
In addition to a beautiful soundtrack, the Avatar: The Way of Water is beautiful in the fact that it is not a film about a conflict of good versus evil but it is a film about the beauty. This will really resonate with the viewers.
Images of the central couple are shown throughout the movie, with Neytiri clearly showing she's pregnant.
The Avatar series has branched out bigtime, with its latest chapter involving Jake Sully and Neytiri's family of the Na'vi.
The most interesting thing is that there are humans working with the Na'vi in this sequel, the mystery is deep as we sort answers to the Who stayed behind? How many humans are still in the mix?
The 3D experience
It highly recommend to check out the teaser trailer to Avatar: The Way of Water in 3D, as it's currently attached to Doctor Strange in the Multiverse of Madness.
It's great hype material for the film to come, which will be showing in 3D and pretty much any format imaginable in its wake, on December 16th 2021 when it opens theatrically. And the visuals are impeccable bringing out
These are some reactions to the teaser trailer below:
13 freaking years and it's finally here…!!! ♥️ https://t.co/KJSPPtBXaW

— Sapyderman (@heelllloo_youuu) May 9, 2022
I remember seeing the first one in theaters 8 TIMES…the most I've ever seen any movie in a theater. I wanted to be in that world so bad😭Been waiting a long time for this one and it looks so beautiful https://t.co/NdyDoXVUax

— JD (@MrRobotForex) May 9, 2022
*scratches head* this just looks like a national geographic documentary of the blue tall people https://t.co/hdEiy5bRwD

— 🃏nibby⁷✿ (@ZoroMins) May 9, 2022
This is just money laundering https://t.co/rgkaxrlYHD

— PGA Oldman (@TheTopGrant) May 9, 2022
Meanwhile, it will be remastered and return to theaters on September 23, it means children who had expressed interest in watching it again (they saw and loved it in early 2018) can hopefully resist the urge to "play" it on Disney+ for a few more months.