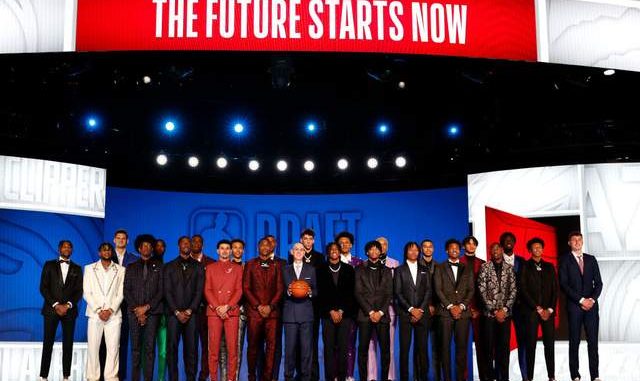 The No. 1 pick in the 2022 NBA draft is going to the Orlando Magic. They picked Paolo Banchero, an Italian forward, from Duke University.
That move came as something of a surprise, as Banchero never met with the Magic and the consensus around the league was that Auburn's Jabari Smith Jr. would go #1 and headed to Orlando.
The Sacramento Kings drafted a big man in Iowa forward Keegan Murray at No. 4 and the Detroit Pistons selected a guard in Purdue's Jaden Ivey at No. 5.
The best rookie season will belong to one of the top three picks. We look at what teams could be looking at this year. And What are the top three deals that went down on Thursday?
The Rockets and Pistons were moving to acquire Smith and Ivey a few days before the draft.
The Rockets traded center Christian Wood to the Dallas Mavericks for the No.
The Detroit Pistons traded forward Jerami Grant to the Portland Trail Blazers for the No. 36 pick, as well as future draft picks.
The trades kept coming through draft night, as both the Pistons and Rockets made additional deals.
The New York Knicks sent point guard Kemba Walker to the Motor City, in exchange for the No. 13 overall pick, and the Charlotte Hornets, which sent point guard Marcus Paige to the Knicks and center Miles Bridges to the Pistons.
After trading for him, the Boston Celtics decided to make him their first-round draft choice, sending the No. 23 overall pick to the Memphis Grizzlies for swingman De'Anthony Melton.
The NBA gives the less performant teams the opportunity to choose their picks ahead of teams with better records (i.e., teams who won more games) the previous season.
This enables worse teams to select quality players and improve their performances. The first 14 teams to choose are always the 14 teams from the previous season that did not advance to the playoffs.
The full 2022 NBA draft first-round selections:
1) Paolo Banchero,PF, Orlando Magic
2) Chet Holmgren, C/PF, Oklahoma City Thunder
3) Jabari Smith Jr, PF, Houston Rockets
4) Keegan Murray, PF, Sacramento Kings
5) Jaden Ivey, SG, Detroit Pistons
6) Bennedict Mathurin, SF, Indiana Pacers
7) Shaedon Sharpe, SG, Portland Trail Blazers
8) Dyson Daniels, PG/SG, New Orleans Pelicans (from Lakers)
9) Jeremy Sochan, PF, San Antonio Spurs
10) Johnny Davis, SG, Washington Wizards
11) Ousmane Dieng, SF, New York Knicks (traded to Thunder)
12) Jalen Williams, SG, Oklahoma City Thunder (from Clippers)
13) Jalen Duren, C, Charlotte Hornets (traded to Pistons via Knicks)
14) Ochai Agbaji, SG, Cleveland Cavaliers
15) Mark Williams, C, Charlotte Hornets (from Pelicans)
16) AJ Griffin, SF, Atlanta Hawks
17) Tari Eason, PF, Houston Rockets (from Brooklyn)
18) Dalen Terry, SG, Chicago Bulls
19) Jake LaRavia, SF, Minnesota Timberwolves (traded to Grizzlies)
20) Malaki Branham, SG, San Antonio Spurs
21) Christian Braun, SG, Denver Nuggets
22) Walker Kessler, C, Memphis Grizzlies (from Jazz, traded to Timberwolves)
23) David Roddy, SF, Philadelphia 76ers (traded to Grizzlies)
24) MarJon Beauchamp, SG, Milwaukee Bucks
25) Blake Wesley, G, San Antonio Spurs (from Celtics)
26) Wendell Moore, SF, Dallas Mavericks (traded to Timberwolves)
27) Nikola Jovic, SF, Miami Heat
28) Patrick Baldwin Jr, PF, Golden State Warriors
29) TyTy Washington, PG, Memphis Grizzlies
30) Peyton Watson, SF, Oklahoma City Thunder (from Suns)