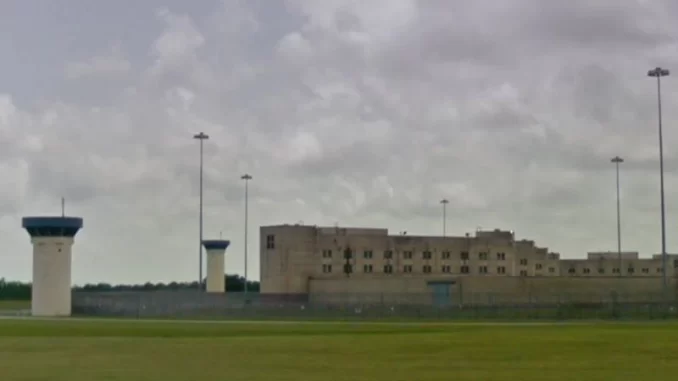 The federal prison system has been placed on a nationwide lockdown after two inmates were killed and two others were injured Monday during a gang fight at a federal penitentiary reportedly involving MS-13 members in Texas.
The incident took place at around 11:30 Monday morning at the USP Beaumont. Reports indicate that the brawl involved members of the violent MS-13 gang.
There are two federal prison facilities in Oklahoma: The Federal Transfer Center in Oklahoma City and FCI El Reno. Both are under lockdown with visitation suspended until further notice.
The US Bureau of Prisons (BOP), in a statement, said two prisoners were killed in the incident late on Monday at a prison in the town of Beaumont, which called for the early Tuesday lockdowns. Authorities identified the men as Andrew Pineda, 34, and Guillermo Riojas, 54.
Two other prisoners were injured and taken to nearby hospitals for treatment but their names were withheld.
"We anticipate this security measure will be short-lived," the BOP said in the statement, "will continue to monitor events carefully and will adjust its operations accordingly as the situation evolves" it added.
This attack is just the latest of a serious violence within the federal Bureau of Prisons and its a difficult situation. The agency has struggled through a lot of crises in recent years, these include widespread staffing shortages, serious employee misconduct, a series of escapes and deaths.
No staff members or other inmates were injured in the violence at Beaumont, a high-security prison with almost 1,400 male inmates.
In the wake of Associated Press (AP), reporting that uncovered widespread corruption, misconduct and other problems at the agency; the Justice Department announced earlier this month that the agency's director, Michael Carvajal was resigning from his position from amid increased scrutiny over his leadership.
The call for nationwide lockdown is very rare. Meanwhile the agency implemented the measure in April 2020 as coronavirus cases began skyrocketing in prisons nationwide, and after the insurrection at the U.S. Capitol on January 6, 2021, and shortly before the inauguration of President Joe Biden.
In November 2007, two inmates of Beaumont stabbed another inmate to death on the penitentiary's special housing unit after they broke free from handcuffs, shanked two correctional officers escorting them to their cells and stole cell keys. They were later convicted and sentenced to death.
And a few months later, in February 2008, a Beaumont inmate was strangled to death in his cell by two other inmates — one of them the co-founder of the prison gang Dead Man Incorporated.
— With a serious staffing crisis at the prison, over the last few years, several inmates have escaped Beaumont USP Security as the security facility has become lax.