We live in a digital age; dependent on our iPhones for everything from telling the time to controlling our heating and even finding a life partner. So it was only a matter of time until technology took over looking after our skin. The more technology there is available to us, the more reliant upon it we become, and the more that is subsequently created. But is it really any good when it comes to our skin? Don't we need to see a professional to truly discover the best treatments and products to get our skin in its best shape?
If two-year-old online dermatology and skin clinic, Dermatica, is anything to go by, the answer is no, we don't need to see anyone at all. Rather, we just need to answer a few questions and upload three photos onto a website to receive prescription-based treatment and advice from a dermatologist on whatever skin issue we've got going. Dr Natalia Spierings is the medical director of Dermatica and, alongside the roster of dermatologists that she works with, helps users with their skin issues remotely while also holding a clinic on Harley Street herself. "It's a subscription service; you pay £19.99 a month including monthly delivery of a prescribed topical product and consultations with the dermatologists," she explains, pointing out that it's actually a much cheaper approach than going to the doctors.
While a Dermatica journey starts online, much of the correspondence is carried out over e-mail (and in some more pressing cases, over the phone), an attractive prospect for the verbal interaction-shy generation. They follow up monthly, with a proper consultation after three months to measure skin's progress, and their inbox is always open for any queries or issues. Really, their world of expertise is your oyster.
There is a lot to be said for approaching skin in this technology-based way. One of the main barriers to decent skin treatment in the UK is the lack of consultant dermatologists available – a 2017 study showed that out of 800 UK dermatologist positions, 200 were unfilled, meaning that there simply isn't the bandwidth to provide treatment to everyone that needs it. "Those who have mild to moderate acne, for example, won't get treated on the NHS now anyway because it needs to be severe," says Spierings, "Plus people – especially the young – want a quicker and cheaper service." An app like this is a great way of democratising dermatology, allowing nearly anyone to access high quality care at a reasonable price; and that's proper expertise from a qualified dermatologist, from even the deepest, darkest depths of Cornwall. And with 3,000 active users – a figure they expect to see quadruple in the next year – it could just well be the future.
Meanwhile, skincare brands are innovating in the technology field. La Roche-Posay is one of them, with two apps to help consumers with different skin issues. The most notable is the My Skin Track UV app, which partners with a wearable electronic sensor patch that monitors your own unique UV exposure. "The battery-free sensor is activated by the sun and powered by the user's smartphone. All you have to do is tap the patch against your phone to relay the info back to it," says consultant dermatologist Dr Justine Hextall. This is revolutionary stuff considering 100,000 of us are diagnosed with skin cancer each year. If this app-and-patch combo were used by everyone, particularly the sun-worshippers among us, the stat could be vastly reduced.
The brand also recently introduced the Spotscan app, a diagnostic tool powered by artificial intelligence to diagnose (and grade the severity of) acne. Like Dermatica, all you have to do is download the app and upload three selfies covering left, right and centre of your face, then wait for the app to count and distinguish imperfections upon skin. It then delivers a personalised La Roche-Posay Effaclar skincare routine to your phone, ripe and ready for your next trip to Boots. Effaclar is the best selling acne range by the French pharmacy brand and beloved by many a beauty editor, so while there is no avoiding the fact that the app helps drive sales for the brand, it is also no bad thing given their products are as excellent for blemish-prone skin as they are affordable, The app also offers recommendations on how to use the products, and in what order, and can be used to monitor the skin's progress.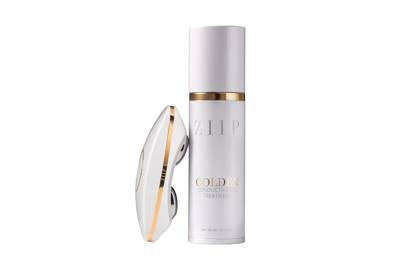 Other beauty brands, mostly those that sell devices, also work in synergy with apps to help consumers access facialist-style appointments from the comfort of their own homes. Take ZIIP Beauty's Nano Current Skincare Device, a tool that uses tiny electrical currents to help lift, sculpt and energise the skin. Cleverly, it's controlled by an app which features a whole host of different programmes that adjust the device's settings to tackle different skincare concerns; essentially, you're getting a huge variety of skincare treatments in one device, thanks to said app (which is also updated with new programmes regularly, too). Similarly the FOREO UFO, a 90-second mini smart mask tool that incorporates sonic vibrations with LED light, can be paired with an app that has various different programmes for different skins. There's no sign of device fatigue here.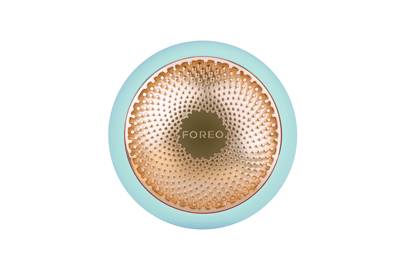 Apple's App Store is also filled with different apps that help keep the skin in good condition. There is iDoc24: Ask a dermatologist , which has over 200,000 users and allows you to upload photos and check in with dermatologists regarding any given skin concern; then there's Think Dirty, a bar code scanner that helps you learn about skincare ingredients – the good, bad and ugly – and TroveSkin, a virtual skin 'diary' which allows you to track how your skin is doing, from spots and pigmentation to pores and wrinkles. All much more helpful than a game of Candy Crush.
Of course, there is no disputing the benefits of seeing an IRL dermatologist or expert to ensure skin is well looked after, and for treatments that simply can't be done at home. But the raft of new apps and online platforms make both of these things accessible a small ways from wherever we are, a development even the most stubborn techno-phobe would agree is no bad thing.
Source
Author: Hannah Coates