Alexandria Ocasio-Cortez, Ayanna Pressley, Rashida Tlaib and Ilhan Omar are exactly the type of women we need in politics right now. Of late, they've dominated headlines for untoward reasons. Just days ago, US president Donald Trump – without outrightly naming the four women – told them to "go back and help fix the totally broken and crime-infested places from which they came" on Twitter. The politicians retorted by holding a joint press conference together in the Capitol to publicly address the racist remark. Unfortunately, it shows no sign of abating any time soon, as Trump asked a crowd to chant with him "send her back", referring to Somalia-born Omar during a rally in North Carolina on July 17.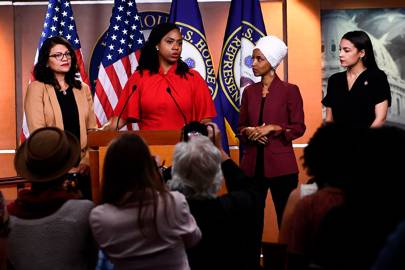 Why are they called "The Squad"?
First of all, it happened organically. The Democratic congresswomen all represent firsts in their right (more on that below). While joking during a photocall about "#SquadGoals", in reference to the hashtag so often seen on social media platforms, the women were shortly given their moniker of "The Squad".
Source
Author: SUSAN DEVANEY