The US has deployed an aircraft carrier to the Middle East to send a "clear and unmistakable message" to Iran.
John Bolton, US national security advisor, said they were acting "in response to a number of troubling and escalatory indications and warnings".
The deployment of the warship was based on claims of a possible attack on US forces, Reuters news agency reports, quoting an unnamed US official.
Mr. Bolton added that they would counter any attack with "unrelenting force".
In a statement, Mr Bolton said: "The United States is deploying the USS Abraham Lincoln Carrier Strike Group and a bomber task force to the US Central Command region to send a clear and unmistakeable message to the Iranian regime that any attack on United States interests or on those of our allies will be met with unrelenting force."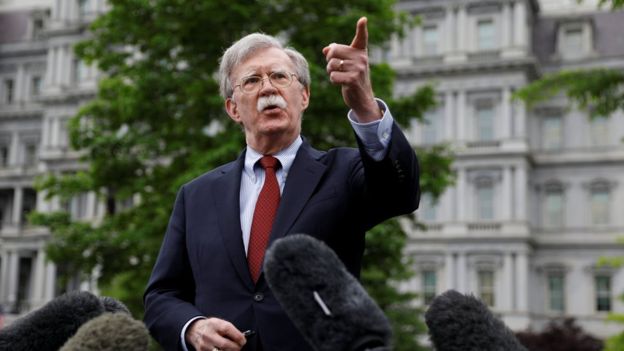 John Bolton said the US was "not seeking war" with Iran. Reuters
He added: "The United States is not seeking war with the Iranian regime. But we are fully prepared to respond to any attack, whether by proxy, the Islamic Revolutionary Guard Corps or regular Iranian forces."
The ship was already in Europe for war games with US allies that have been taking place since the end of April.
Analysis by Jonathan Marcus
Preparing for war?
So far there is little detail from the Americans of the alleged Iranian actions that have prompted this warning nor of the specific US deployments underway.
It is not unusual for an aircraft carrier and its battle group to be sent to the Gulf. Reinforcing US land-based air assets in the region, albeit temporarily, is less routine.
Washington has itself been turning up the pressure on Iran over recent months; designating the Iranian Revolutionary Guard Corps a terrorist entity; toughening up oil sanctions and so on.
But the Trump Administration's goal is unclear. Its spokesmen insist that they do not want war with Iran but they can also barely hide their enthusiasm for regime change in Tehran.
So is this US move an attempt to guarantee the existing, uneasy status quo ? Or is it an attempt to turn the screw even tighter?
Many critics of the Administration fear a developing drumbeat towards a conflict which, they fear, could erupt either by accident or by design.
---
This isn't the first time the USS Abraham Lincoln has been deployed to the Gulf. However, this deployment comes amid growing tensions between the US and Iran.
Last year President Donald Trump unilaterally withdrew from a landmark nuclear deal the US and other nations had agreed with Iran in 2015.
Under the accord, Iran had agreed to limit its sensitive nuclear activities and allow in international inspectors in return for sanctions relief.
And last month the White House said it would end exemptions from sanctions for five countries – China, India, Japan, South Korea and Turkey – that were still buying Iranian oil.
At the same time the US also blacklisted Iran's elite Revolutionary Guard Corps, designating it as a foreign terrorist group.
The sanctions have led to a sharp downturn in Iran's economy, pushing the value of its currency to record lows, quadrupling its annual inflation rate, driving away foreign investors, and triggering protests.