The government is trying to "purge" Tory rebels who oppose it over Brexit, ex-Justice Secretary David Gauke says.
A senior source from the whips' office – which ensures MPs vote on party lines – said those who voted to block no deal would be expelled and deselected.
The threat came as opposition MPs prepared to introduce legislation in an effort to avoid no deal.
Mr Gauke said the PM was seeking to "re-align" and "transform" the Tories "in the direction of The Brexit Party".
The prime minister has said the UK must leave the EU on 31 October, with or without a deal, prompting a number of MPs to unite to try to prevent the UK leaving without an agreement.
Meanwhile, speaking ahead of a meeting of the shadow cabinet, where Labour will finalise plans aimed at stopping no deal, Jeremy Corbyn said an election would be "the democratic way forward".
MPs will this week seek to bring forward legislation against no deal in Parliament, with specific details expected to be outlined on Tuesday.
But in a warning to Tory MPs thinking of supporting such efforts, a senior whips' office source said anyone who failed to vote with the government would lose the whip – meaning they would effectively be expelled from the party – and would not be able to stand as a Conservative candidate in an election.
The source said if Tory MPs fail to vote with the government on Tuesday they will be "destroying" its negotiating position and "handing control of Parliament to Jeremy Corbyn".
There was a chance of reaching a revised Brexit deal on 17 October – the date of the next EU summit – they added, but "only because Brussels realises the prime minister is totally committed to leaving on 31 October".
'Goading'
The Conservatives have a majority of just one, which includes a pact with the Northern Irish DUP, so if any Tory MP is kicked out – has the whip withdrawn – the party will go into a minority government.
Mr Johnson had been due to meet Tory MPs pushing to rule out no deal on Monday, but a source close to the group said the prime minister called off the meeting with no explanation.
Mr Gauke told BBC Radio 4's Today programme: "I don't think there seems to be a huge effort to persuade people to support the government this week.
"They seem quite prepared for a rebellion and then to purge those who support the rebellion from the party."
He said the government was "almost goading people into voting against" it to pave the way for a general election.
He later told the BBC's Victoria Derbyshire he would be prepared to lose his job to vote against no deal, saying: "I have to put what I consider to be the national interest first."
Under the Fixed Term Parliament Act, the prime minister could call a general election if two thirds of all MPs vote for one.
One could also be held if a motion of no confidence was passed and no alternative government was confirmed within 14 days.
Who are the Tory rebels?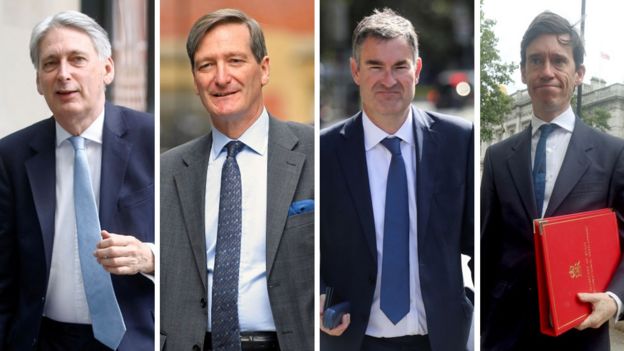 Conservative MPs who have been vocal about their opposition to a no-deal Brexit include those who were ministers in Theresa May's cabinet only weeks ago.
As well as ex-Justice Secretary David Gauke, the group also includes former Chancellor Philip Hammond and former International Development Secretary Rory Stewart.
Other senior Tories like Ken Clarke and Oliver Letwin, both former ministers, have also said they would defy the government to stop no deal.
Beyond them, there is a much larger group of MPs – several dozen – who have suggested they do not agree with a no-deal Brexit, but have been less vocal about what action they would take. They include the likes of Greg Clark, Claire Perry, Ed Vaizey, Guto Bebb and David Mundell.

Tory MP Antoinette Sandbach, who has also said she would be prepare to lose her job to oppose a no-deal Brexit, told BBC Breakfast she had not been contacted by the whips' office.
"The decision has been made without the government even seeing the legislation that we're likely to be voting on tomorrow, so it seems to me that this is a very deliberate attempt to try and purge the Conservative Party of moderate, sensible voices," she said.
Nick Boles, the independent MP who quit the Conservatives over Brexit, told BBC Radio 4's Today programme the party had been "taken over" by the "hard right".
"The Conservative Party has fallen prey to an almost religious obsession with the hardest form of Brexit, which is obviously a Brexit with no deal," he said.
He said this was made clear with the resignation of Scottish Tory leader Ruth Davidson last week, who he described as a "progressive, modern, liberal Conservative".
On Sunday, cabinet minister Michael Gove refused to guarantee Downing Street would abide by any legislation aimed at stopping no deal.
David Gauke has subsequently written to the attorney general – the government's senior law officer – demanding the government commits to following the rule of law.
Doing otherwise could "undermine the institutions and values we all hold dear", he wrote.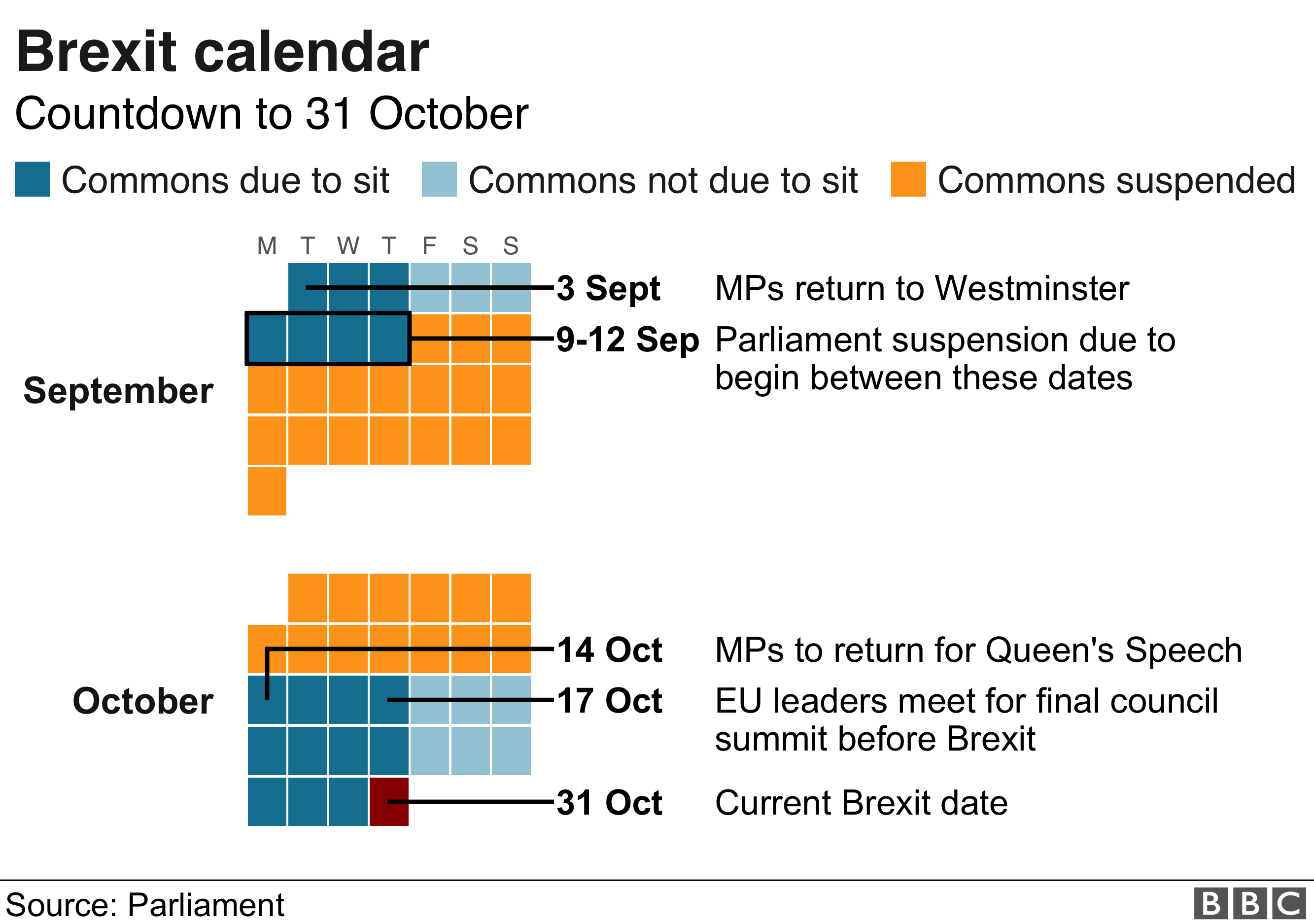 Privately, Mr Johnson's critics are warning they will seek a judicial review of the government's action should ministers choose to flout the will of Parliament by ignoring a no-deal law.
Education Secretary Gavin Williamson told the BBC it was "perfectly normal" for a government to take the time to see how any new legislation would impact Brexit negotiations, but insisted: "Every government stands by the law."
He said he did not believe any anti no-deal legislation would be passed by Parliament and hoped that Tory MPs would "rally round" the prime minister this week.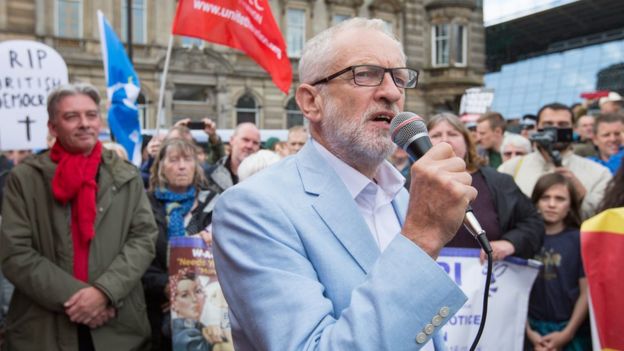 Meanwhile, former Prime Minister Tony Blair has warned a general election would be an "elephant trap" Labour must not fall into and Brexit must be "resolved" first.
But Labour leader Jeremy Corbyn said in a speech in Salford he did still want one.
"In that election Labour will give people the chance to take back control and have the final say in a public vote… including the option to Remain," he added.
He also called the prime minister's plans to shut down, or prorogue, Parliament "an attack on democracy that will be resisted".
Mr Johnson has said he asked for the suspension in order to hold a Queen's Speech – which sets out a list of laws the government hopes to get approved by Parliament – on 14 October.
But Labour says the suspension is to force through a no-deal Brexit.
---
What could happen this week?
Any new law has to pass all stages of both Houses of Parliament – this usually take weeks but could be done in as little as three days this week.
The bill could be challenged by the government and fall at any stage. It could fail to achieve enough support from either MPs or peers in votes held in the Houses.
Tuesday: MPs return to the Commons after their summer recess. Opposition MPs are expected to put forward legislation to stop no deal under "SO24" or Standing Order 24 – the rule allowing MPs to ask for a debate on a "specific and important matter that should have urgent consideration". This would be the bill's first reading – its formal introduction to the House.
Wednesday: In theory, the bill would then be debated and could potentially pass through all further Commons stages. However, the bill must pass through a series of votes and receive backing from more than half of MPs to pass to the next stage. Boris Johnson's first PMQs as prime minister also takes place.
Thursday: If MPs passed the bill, it could then reach the House of Lords by Thursday, but consideration of the bill could spill into Monday. It will be debated and voted on. The House is not due to sit on Friday.
Monday, 9 September: If the bill passes these hurdles it could gain Royal Assent, formally making it law.
This could be a tight timetable as there are as few as four sitting days before Parliament is suspended. This is due to happen between Monday, 9 September, and Thursday, 12 September, under plans announced by the prime minister.
Another hurdle for any bill could come in the Lords. Although opponents to no deal have a large majority, peers wanting to block legislation could talk until there is no time left.