Tim Paine has stood down as Australia captain after being investigated by Cricket Australia over sending a co-worker an explicit image of himself along with a string of lewd messages.
Paine, 36, made the decision to resign – just weeks out from the start of the series against England – after it became clear to him that details of the incident in 2017, which predated his appointment as Test captain, were about to be made public.
An emotional Paine addressed the media in Hobart on Friday afternoon to make the announcement, reading a brief statement but refusing to take questions.
He said the text exchange had been previously investigated by Cricket Australia (CA) and he had been "exonerated'.
"It's an incredibly difficult decision, but the right one for me, my family, and cricket," Paine said.
"I am deeply sorry for the hurt and pain that I have caused to my wife, to my family, and to the other party.
"I'm sorry for any damage that this does to the reputation of our sport."
"And I believe that it is the right decision for me to stand down as captain, effective immediately. I do not want this to become an unwelcome disruption to the team ahead of what is a huge Ashes series."
Investigations by the Cricket Australia integrity unit and Cricket Tasmania's HR department found no code of conduct breach, he said.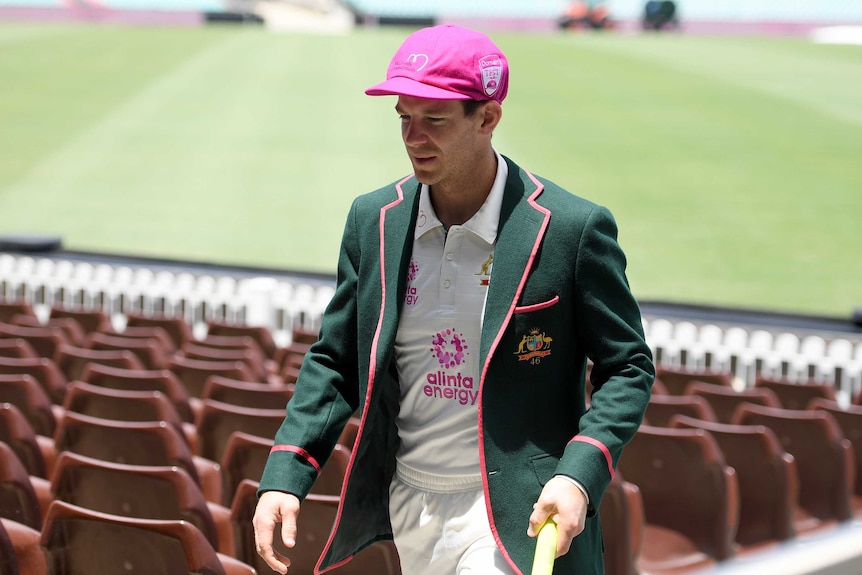 "Although exonerated, I deeply regretted this incident at the time and still do today."
While his resignation from the captaincy is effective immediately, Cricket Australia confirmed Paine will remain a part of the Ashes team.
Paine had Australia's second highest-profile job after the nation's prime minister – since March 2018. He took the job from Steve Smith in the wake of the Cape Town ball-tampering scandal and was seen as a steady pair of hands to guide Australian cricket in the aftermath of one of its most stormy periods.
Paine expressed his feelings of no longer being the skipper.
"It's been the greatest privilege of my sporting life to lead the Australian men's Test team," he said.
"I'm grateful for the support of my teammates and proud of what we've been able to achieve together.
"To them, I ask for their understanding and forgiveness. To Australian cricket fans — [I'm] deeply sorry that my past behaviour has impacted our game on the eve of the Ashes.
"For the disappointment I have caused to fans and the entire cricket community, I apologise.
"I've been blessed with a wonderful, loving and supportive family, and it breaks my heart to know how much I've let them down.
"They have always stood by me, been my most loyal fans, and I'm indebted to them for their support."
According to Cricket Australia (CA), Paine had been cleared of any breach of the code of conduct regarding this matter some years ago but CA's chair, Richard Freudenstein, said the board "does not condone this type of language or behaviour".
And Cricket Tasmania also said in a statement it does not condone his behaviour, but "because of the consensual nature of the actions it was determined that no further action was required or appropriate".