Trullo

Owned by the same team as Padella, Trullo both takes reservations and serves hearty mains in addition to pasta. Like its more laidback sister restaurant, the food offering at this classic trattoria changes daily, with the dishes from the charcoal grill being the highlight. Think John Dory with Casteluccio lentils or Dorset lamb with cavolo nero.

Bocca Di Lupo

Bocca Di Lupo has become a West End institution since it opened a decade ago. The menu changes twice daily, and each dish includes a note about the region of Italy from which it originates. Begin with platters of crudi e salumi before working your way through primi and secondi, then cross the road to the restaurant's gelateria Gelupo for dessert. The ricotta with sour cherry is particularly divine.

Bancone

Bancone may only have opened in Covent Garden last summer, but it's already won over some of London's toughest food critics. Every region in Italy is represented on its ever-changing menu, and the pasta is made in house daily. There are no tricks or gimmicks here – just straightforward, ludicrously delicious Italian food. Note: the silk handkerchief pasta with walnut butter is an almost religious experience.


Gloria

Gloria has dominated our Instagram feeds ever since its buzzy spring launch thanks to the restaurant's La Gran Carbonara – served in a giant round of pecorino – and towering slices of "incomparable" lemon meringue pie. The décor and ambience are just as theatrical; Italian waiters in candy-striped uniforms dash around the Capri-inspired rooms while a hilariously eclectic soundtrack blasts through the speakers. Yes, it's a great place to begin a night out in Shoreditch, but you may well just find yourself hunkering down here for the evening.

Lina Stores

Ever since launching its own restaurant on Greek Street last year, Italian delicatessen Lina Stores has graduated from food lovers' haven to household name. It's worth braving the queue outside its mint-green façade. The pasta, which is handmade in the deli every day, is of course the main event here – the spaghetti al nero is particularly great – but the cannoli with ricotta, pistachio, and chocolate more than justify the trip alone.

Pastaio

In the middle of Soho's frenzied restaurant scene, Pastaio stands out as a place that's both consistently delicious and reasonably priced. Order a prosecco slushy with Campari, blood orange, and gin before turning your attention to the menu. There are eight classic pastas on offer every day, from linguini alle vongole to wild mushroom tagliatelle, which can all be replaced with surprisingly delicious gluten-free penne.

River Cafe

It's impossible to write about Italian restaurants in London without including the River Cafe. More than 30 years since it opened its doors in Hammersmith, Ruth Rogers and the late Rose Gray's Thameside restaurant is still just as brilliant. Treat yourself to a meal based around impeccable spring produce, then bring home a copy of River Cafe 30 to recreate the likes of their panzanella or the chocolate nemesis pudding in your own kitchen.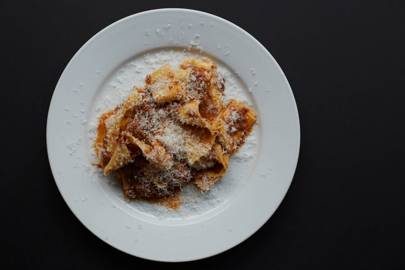 Brawn

Tucked away on Columbia Road, Brawn has evolved significantly since it first opened in 2010 – and under chef Ed Wilson's ownership, it has only become more delicious. Granted, the menu pulls inspiration from across Europe rather than limiting itself to Italy – moreish ingredients rather than culinary traditions rule here – but good luck finding better agnolotti in brodo in London. There's also an impressive natural wine list if that's your bag.
Source
Author: HAYLEY MAITLAND