Louise Minchin, 53, bid an an emotional farewell as colleagues and celebrities paid tribute during her final episode presenting her final BBC Breakfast show on Wednesday.
Minchin first appeared on BBC's morning news show in 2001 and joked she was leaving to escape the tiring early starts.
Minchin, though announced she was leaving BBC Breakfast earlier this year, she recently confirmed Wednesday, September 15 would be her last day.
Her co-host Dan Walker kicked off Louise Minchin's Breakfast farewell by taking her outside blindfolded. Minchin removed the blindfold to see a crowd gathered around her and Walker, with some wearing masks emblazoned with her face.
He said she had been "a fierce campaigner, a brilliant journalist and a really good friend" over her two decades on the programme.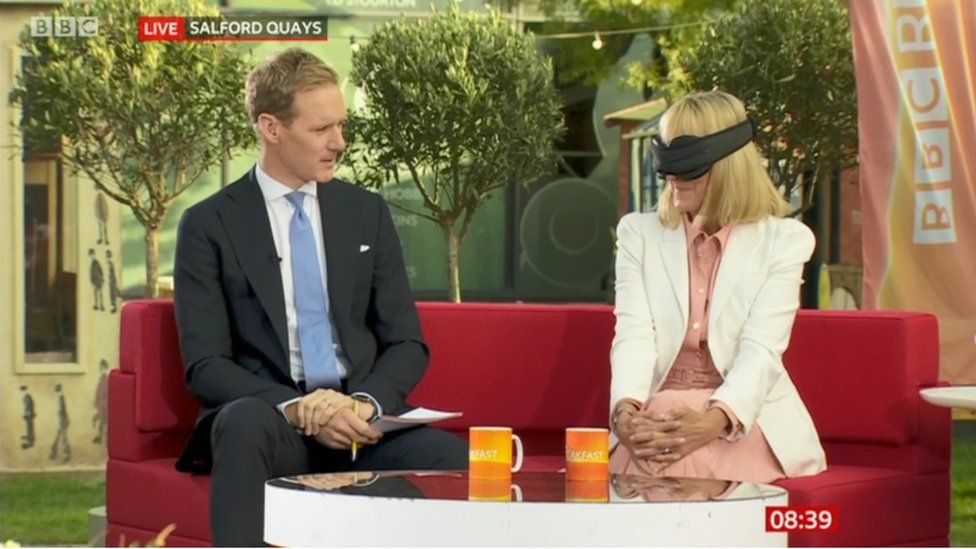 Viewers were shown a video of her walking through the newsroom and being applauded by her colleagues, before Dan Walker, Minchin's co-presenter, shared tributes from those watching at home.
Minchin said she was "embarrassed and humbled and tearful" by the messages.
Celebrities including sport stars and former BBC colleagues all featured to say a special farewell as Minchin made her last appearance on the breakfast sofa. Her husband, David, and her daughters, Scarlett and Mia, also featured.
On today's morning's show, Minchin revealed that her BBC pass had already been deactivated and she was locked out of the office.
"I walked into the building and my pass doesn't work!"

BBC Security are ready to let @louiseminchin go, we're not! #GoodbyeLouise 😢https://t.co/wfXT2cfMI1 pic.twitter.com/3WfwVQfFqx

— BBC Breakfast (@BBCBreakfast) September 15, 2021
Throughout her final program, Minchin battled with tears but retained her composure during her farewell address.
She said the show's viewers had been "at the heart of everything we do" as she prepared to "leap off this sofa into the great unknown".
Minchin, addressing viewers said: "Thank you so much for your huge support, I think particularly over the last two years as well.
From a makeshift open-air studio outside the BBC's buildings in Salford, she rounded up her show and said "Goodbye, have a great day and I'll see you somewhere on the other side".