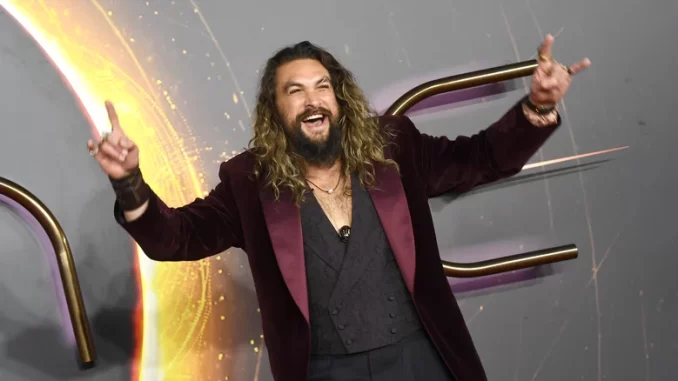 Jason Momoa is wasting no time in lining up projects to keep him busy, the latest being Universal Pictures action-comedy Shots! Shots! Shots! after Aquaman and the Lost Kingdom.
Momoa, 42, has join the Universal movie, Shots! Shots! Shots! that has been written by Matt Mider and Kevin Burrows.
He recently signed on for (deep breath) Warner Bros. murder-mystery The Executioner, the long-gestating Minecraft movie for director Jared Hess, Fast X, and Apple TV+'s Chief of War, but has added even more to his workload with the Matt Mider and Kevin Burrows (The Package) scripted action-comedy.
The Shots! Shots! Shots! story details are not yet out, however, the movie is reported to have a family adventure that has James Cameron's film 'True Lies' elements, including the Liam Neeson's 'Taken' franchise and the just recent movie 'The Lost City'.
The "Shots! Shots! Shots!" he's producing with business partner Jeff Fierson alongside the Rideback team of Dan Lin and Jonathan Eirich (the company behind such blockbusters as "The Lego Movie", "Aladdin" and the two-part adaptation of Stephen King's "It"). There's no director known just yet, and most definitely we have to look out for who that will be.
While Momoa will replicate his role Aquaman role in the upcoming superhero sequel 'Aquaman and the Lost Kingdom', he has made it known that he worked closely with director James Wan and writer David Leslie Johnson-McGoldrick on the story.
The actor said: "'Aquaman and the Lost Kingdom' is amazing. I got to see a little bit of it. Not that much of it. It's amazing. The action and special effects are amazing. It's funny. It's heartfelt."
"I had a big hand in the script with James – it's pretty much all me and I love it. I'm extremely proud of it. Unfortunately, you have to wait until 2023, but you know it'll be the best movie of the year."
Momoa has revealed how filming the sequel had been a lot more physically demanding than the original.
He said: "I'm getting old."
"I messed up my eyes. I just got something in it that kind of cut it up, and then I've got to get surgery, I have a hernia, I've got ribs out. I'm just – getting beat up."
"I just kind of give it. I love my job and I get a little too excited, then the age thing, you know, I'm an ageing superhero right now."
And if you're all too concerned that Momoa's carousing might get in the way of his super work, just take a look at the actor's IMDb.