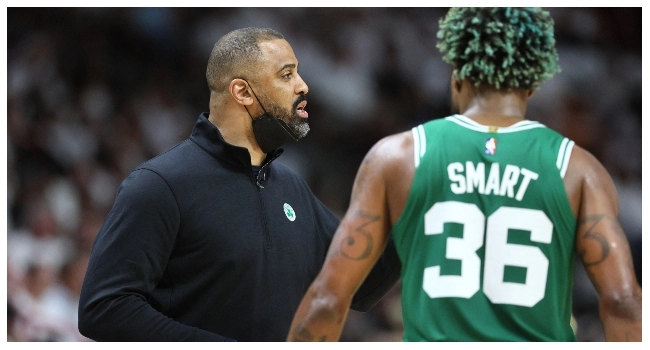 As the Boston Celtics narrowly defeated the Miami Heat in the Eastern Conference Finals to play next with the Golden State Warriors in the NBA Finals. Returning to the finals for the first time since 2010 after beating the Heat 100-96 to win 4-3 in a best-of-seven series.
Boston posted a tenacious effort on the way victory. Jimmy Butler and the Heat gave all their best, but couldn't make it further.
Celtics coach Ime Udoka, however was proud of Boston's hard effort. But he hard truth on the overall bigger picture following their Game 7 win.
It was a deliberate process for the Celtics to get to the NBA Finals. They had to engineer one of the best midseason turnarounds in recent memory, thus going from that 11th position team all the way to the Finals.
However, Udoka kept the optimistic view of his team even when the inexplicable fourth-quarter collapses piled up.
The Celtics are a historic organization that prioritize winning. Although Udoka hasn't been their head coach for long, he understands what it means to be a Celtic.
Ime Udoka: "We don't celebrate Eastern Conference championships in the Celtics organization." 🍀 pic.twitter.com/E07xYzrR0A

— HoopsHype (@hoopshype) May 30, 2022
Midway through the season, the coach called out the Celtics for their lack of mental toughness because it felt like the first sure sign the Celtics were disintegrating. As they were at their rock bottom with an 18-21 record, fresh off blowing a 25-point lead to the Knicks.
The Celtics will aim to win this first NBA Finals. Although it will not be easy against a Warriors who have won 3 championships over the past decade.