Do you religiously apply sun cream? The bigger question is have you been applying it in the correct way? Have you been putting enough sun screen on? You might think you're covered but you'll be surprised to know that in fact, you probably need a lot more than you're actually using.
French skincare brand Avène recommend application depending on the sun cream's delivery system. According to Avène, if you're using an airless pump sun cream, you'll need six pumps for the face and neck and another six for each body part (each arm, leg and your chest and stomach and another six on the back of each of your body areas). For lotions in a tube, you need one finger size worth of sun cream for your face and neck and two fingers for each body part, doubled for the backs of areas, again. With sprays, you'll need 12 per body part and the same for the backs of the body parts.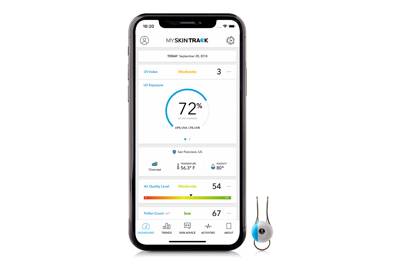 You can now keep track of UV exposure with La Roche-Posay's My Skin Track UV, £54.95. Linked to an app on your iPhone, the sensor can measure your current UV exposure (as well as pollution, humidity and pollen), and alert you to how much UVA and UVB rays you're being exposed to, making you aware of your current exposure levels and making you able to adapt your sun care routine accordingly.
Dr Justine Hextall, a Consultant Dermatologist for La Roche-Posay explains the golden rules of sun protection:
When to apply sun cream?
I recommend that everyone should wear an SPF everyday, all year-round. Not only to protect against skin cancer, but also to make a change to the cumulative amount of UV that your skin is exposed to from an ageing point of view. I always advise my patients that wearing a sun cream is the best anti-ageing cream they will ever use. Extrinsic ageing from light exposure is significant. I recommend a high factor broad spectrum sun cream for the face and neck all year-round.
How often does sun cream need to be re-applied?
It is recommended that you re-apply sun protection every couple of hours and I'd say more frequently if you're swimming. Even water-resistant sun creams will be removed with towel drying and that even in the shade we are exposed to the sun, particularly if sitting near light-reflective surfaces such as white walls or water.
How often to apply sun cream to children?
Exposing children to too much sun may increase their risk of skin cancer later in life. Use a high factor sunscreen specifically tailored for children/babies and be sure to apply the product before going out in the sun and reapply frequently and generously– similarly to adults every couple of hours, though more often if they're in water and/or after perspiring from running around. Over and above SPF, parents should help sun protect children by avoidance of the midday sun (i.e. 11am-3pm) and wearing appropriate UV protective clothing and hats and sunglasses.
How to choose an SPF factor?
When choosing sun cream, the higher the SPF, the better the protection from UVB. Although a sun cream may block UVB and stop you burning, it may not block UVA – often referred to as UV Ageing – as these longer wavelengths penetrate deeper into the skin, damaging our collagen and causing loose, wrinkly skin. So broad-spectrum sunscreen should protect against both. It is important to realise that applying half the recommended amount of a sun cream can reduce the protection up to two thirds. So I always suggest a factor 50 with 5* UVA protection.
Source
Author:  LAUREN MURDOCH-SMITH