The government has pledged £5bn over the next five years to improve bus and cycling services in England.
Boris Johnson said the extra money will provide more frequent services and simpler, more affordable fares.
Mr Johnson told MPs that investments in local infrastructure would "improve quality of life and productivity".
But Labour said the PM's plan "doesn't make up for deep cuts since 2010" that have led to thousands of route closures.
The announcement comes as the government gave the go-ahead to the HS2 project.
Mr Johnson set out details of the high speed rail link and the new money for cycling and buses in a statement to the Commons.
In addition to improving frequency and fares, he said the £5bn of funding will go towards new priority routes for buses and 4,000 "zero-carbon" buses in England and Wales.
Other planned improvements include:
More evening and weekend services to make it easier for people to get around outside peak hours
A "simpler, cheaper and more convenient" ticketing system for buses
Priority schemes to allow buses to pass quickly through congested roads
In September, ministers announced £220m in extra funding to boost the bus network in England. They hope the cash will enable operators to restore recently withdrawn services, to give passengers in rural areas more choice and to increase the use of contactless payments.
Further details will be announced in a new National Bus Strategy to be published later this year.
Mr Johnson told MPs that the government's investment plan "must be local" to connect left-behind places to the rest of the country.
"We can unite and level up across the country with fantastic local improvements. better rail, less congested roads, beautiful British-built buses, cleaner, greener, quicker, safer, more frequent," he said.
"Above all, we can improve the quality of life for people and improve their productivity, make places more attractive to live in and invest in."
Responding to the prime minister, Labour leader Jeremy Corbyn described Mr Johnson's plan as "piecemeal" and said the planned investment "doesn't make up for deep cuts since 2010" in bus services.
"Funding for buses has fallen by £645m a year since 2010, 3,300 routes cut or withdrawn and fares have soared," he said.
"It's councils that keep bus routes open. We need long-term funding for the local authorities that have suffered such severe cuts and now face a further £8bn black hole over this Parliament."
'Mini Holland'
British Chambers of Commerce director general, Adam Marshall, welcomed the funding and said: "Business communities will want to work with central government, local government and bus operators to ensure that this new funding makes a real difference on the ground."
On cycling, Mr Johnson promised to create "hundreds of miles" of new cycle paths and plans to make cycling safer in towns by expanding projects dubbed "mini Holland" schemes.
The aim of creating "low-traffic neighbourhoods" outside of London is part of government plans to double rates of cycling by the 2025.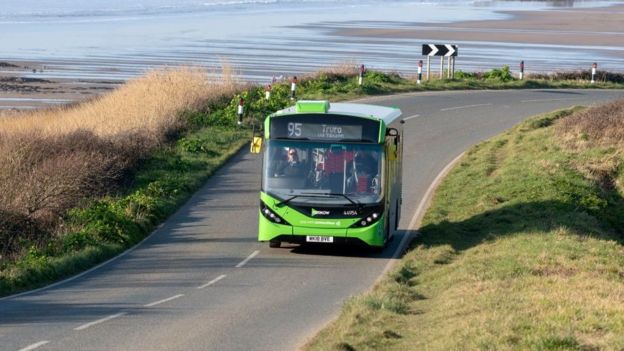 Campaign group the Walking and Cycling Alliance said "the emphasis on quality infrastructure is to be applauded" and that it hoped to work with other groups to "ensure that this investment is the start of a real transformation in how we get around".
A spokesperson added: "It has never been more important to make it easier to walk and cycle – to tackle climate change, poor air quality, crippling congestion, and the mental and physical health of the nation.
"The evidence is clear and people want to do it, what has been lacking is the investment and ambition to make it safe and easy for everyone."
Labour says the plan "doesn't make up for deep cuts" to services since 2010.