Three people have been killed in a knife attack at a church in the French city of Nice, police say.
Police have not yet stated details of the motive of the attack. And the City's Mayor Christian Estrosi said he considers the incident a "terrorist attack". Mayor Estrosi said the suspect had repeated the words "Allahu Akbar meaning "God is greatest". "He cried 'Allah Akbar!' over and over, even after he was injured," he said.
Two women and a man had died, two inside the church and a third who fled to a nearby bar but was severely injured. "The meaning of his gesture left no doubt" the Mayor said.
A suspect is in custody after he was shot and arrested following Thursday's stabbings at the Notre-Dame basilica.
Other attacks were reported Thursday in Avignon, the southern French city, and in the Saudi city of Jiddah, but it was not immediately clear if they were linked to the attack in Nice.
This is the third attack in two months in France that authorities have attributed to Muslim extremists, including the beheading of a teacher Samuel Paty, outside his school.
These attacks come amid a growing furor over the Prophet Muhammad cartoon images that were republished by the satirical newspaper Charlie Hebdo; renewing vociferous debate in France and the Muslim world over the depictions that Muslims consider offensive but are protected by French free speech laws.
President Emmanuel Macron arrived in the southern city and met police officers at the scene of Thursday's attack. Anti-terror prosecutors have opened a murder inquiry and the country raised its national security alert system to its highest level. Prime Minister Jean Castex announced after the attack.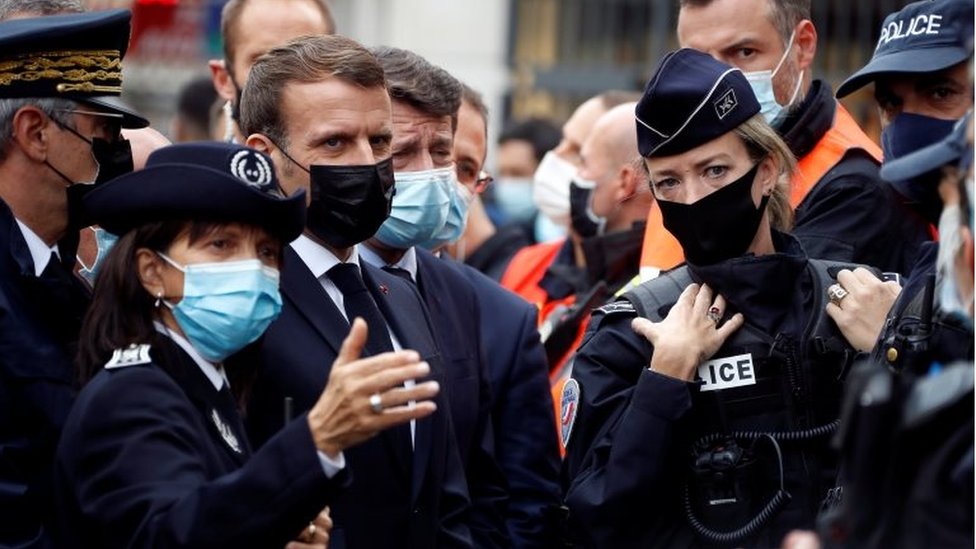 "We are in mourning," the church said in a statement.
"My sadness is infinite as a human in front of what other beings, called humans, can commit," Monsignor André Marceau said. "At this moment, all the churches of Nice are closed until further notice, and placed under police protection."
"The knife attack comes two weeks to the day of the beheading of a French school teacher in a town north of Paris," NPR's Eleanor Beardsley reports from Paris. "The killer in that attack was shot dead by police. He was an 18-year-old radicalized Chechen refugee who was angry that the teacher had shown caricatures of the Prophet Muhammad in his class on freedom of speech."
"With the attack against (teacher) Samual Paty, it was freedom of speech that was targeted. With this attack in Nice, it is freedom of religion," Prime Minister Jean Castex told lawmakers Thursday.