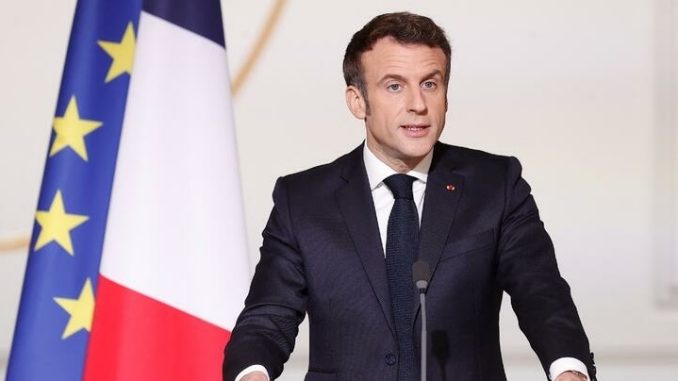 Emmanuel Macron is re-elected and he becomes the first French president since 2002 years to win a second term – with 59% of the vote in last weekend's election.
Macron defeated his far-right rival Marine Le Pen to be re-elected president of France again, vowing to tackle the country's "divisions" during his second five-year term.
Macron's election is positive because it will bring continuity to French economic policy which will help the French economy, and in particular will give momentum to the drive to build political forces in the European Union.
Macron is well known for being an enthusiastic Euro enthusiast. He made that clear during the five years in office when the Brexit process made it even more necessary for him to strengthen the EU.
He is now the President of the Council of Europe and has used his opportunity to champion solidarity and democracy as being the cornerstones of the European project.
In line with nationalists and populists elsewhere, support for the French far right has grown over the years, including during Macron's first term. When five years ago, Macron beat Marie Le Pen by 66% to 34%.
And in 2002, the centre-right incumbent Jacques Chirac defeated Le Pen's father, Jean-Marie Le Pen, by 82 per cent to 18% after the Front National leader unexpectedly reached the second round.
The traditional parties of the left and right started weakening and the emergence of far left and right parties is partly due to Macron's main political revolution of 2017 and his skill in monopolising the centre.
During Macron's first term, which was marked by the anti-government demonstrations in 2018, coupled with Covid-19 pandemic in 2020 and Russia's invasion of Ukraine this year. He passed labour reforms and tax cuts hailed up by investors and businesses. He also pushed for a EU-backed pandemic recovery programme called "whatever it costs" to help employers and employees through the pandemic crisis.
His plans for the next five years include enhancing the rights of Europeans, reducing Europe's over-dependence on imported coal, gas and oil and increasing the bloc's reliance on its own essential infrastructure and technologies. Among the issues he has repeatedly returned to is the drive for a common approach in the use of European armies, with the aim of making Europe a military power in itself.
Voter Apathy
Much of France was on holiday on the day of voting, but the low turnout also reflected the apathy of voters who complained neither candidate represented them.
The French voters decided to stay at home en masse as choosing between the two candidates in the second round was not different since it happened five years ago.
And more than one in three voters did not vote for either Macron or Le Pen. Voter turnout was nearly 72%, the lowest in a presidential run-off since 1969, and more than three million people cast spoilt or blank votes.
Can Macron Reunite a Divided France?
In France, Macron's opponents will continue to malign him, albeit the truth and realty that the Centre has held strong, and this is good news for France and for Europe as a whole.
With nearly 42% of the French people voting for a far-right candidate, It is an issue that he will have to deal with. It is probable there will be more protests on the way. He faces an even tougher job as he works out how to tackle the cost of living crisis and war in Europe.
At the foot of the Eiffel Tower, the centrist leader told supporters that now the election was over he would be a "president for all".
Macron in his victory speech said "an answer must be found to the anger and disagreements that led many of our compatriots to vote for the extreme right," adding that "it will be my responsibility and that of those around me."
World leaders have rushed to congratulate the French President on his re-election:
European Council President Charles Michel tweeted "in this turbulent period, we need a solid Europe and a France totally committed to a more sovereign and more strategic European Union."
Chaleureux bravo cher @EmmanuelMacron

En cette période tourmentée, nous avons besoin d'une Europe solide et d'une France totalement engagée pour une Union européenne plus souveraine et plus stratégique.

Nous pouvons compter sur la #France #5 ans de plus. pic.twitter.com/JEPf6Pqght

— Charles Michel (@CharlesMichel) April 24, 2022
President Vladimir Putin said "I sincerely wish you success in governance, firm health and well-being."
Italian Prime Minister Mario Draghi said "wonderful news for all of Europe" for his re-election.
While German Chancellor Olaf Scholz said French voters "have sent a strong vote of confidence in Europe today."
Spain's Prime Minister Pedro Sanchez in his message said "the citizens have chosen a France committed to a free, strong and fair EU. Democracy wins. Europe wins."
Prime Minister Boris Johnson, "congratulations to Emmanuel Macron on your re-election as President of France. France is one of our closest and most important allies. I look forward to continuing to work together on the issues which matter most to our two countries and to the world".
President Joe Biden also congratulated Macron's victory:
Congratulations to @EmmanuelMacron on his re-election. France is our oldest ally and a key partner in addressing global challenges. I look forward to our continued close cooperation — including on supporting Ukraine, defending democracy, and countering climate change.

— President Biden (@POTUS) April 24, 2022