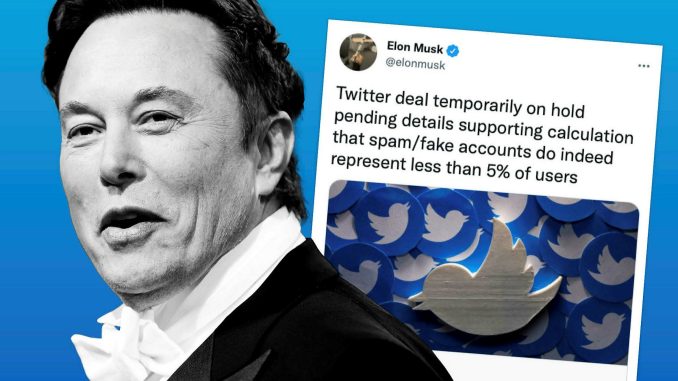 Elon Musk wants to back out of his agreement to acquire Twitter. The world's wealthiest man argues that Twitter's management is in "material breach" of numerous conditions in the acquisition agreement, as well as that the firm has made "false and misleading assertions" about its operations. Musk's allegations are denied by management.
Musk wants to know how many of Twitter's active daily users are "bots"—or phony accounts.
He says that management won't give him information that could help him figure out the exact number.
Since 90% of the company's income comes from advertising, the information is important both for advertisers and for judging the company.
At present, management asserts that just 5% of its ADU (average daily users) are spam and that it throws one million bots off the site every day; as recently as May, CEO Parag Agrawal stated that half a million bogus accounts were evicted. The lack of regularity is unsettling.
What is the truth about who is being dishonest? Musk is the one I like the most.
After all, who stands to lose the most? If it is discovered that Twitter's management fudged their stats, heads will roll and the stock will plummet.
Musk's reputation will definitely take a hit if his accusations turn out to be a lie to get out of a pricey deal.
However, the brilliant Tesla and SpaceX inventor is already seen as eccentric; few will be startled by his U-turn.
Yes, there's that pesky billion-dollar cost that either side may face for destroying the deal; Musk can stomach it.
Make no doubt about it. Even in the middle of a massive sell-off in IT markets, Elon Musk agreed to pay $44 billion for a social networking business on April 25.
The $54.20 per share offer represented a steep 38 percent premium over the stock price prior to Musk's disclosure of his big ownership stake—much too much in hindsight.
Regardless, Musk had a vision and was ready to take a chance.
The validity of Musk's allegations will split our country. Liberals will criticize Musk for making a risky and expensive offer for the biggest social media company.
Conservatives will trust Musk. After all, they've had cause to dislike the social media company for years.
But Elon Musk in his tweet fashion has hit back at Twitter's court threat in the most Elon Musk way possible.
Ultimately, the disagreement will most likely be resolved in court. But there's a lot at stake—not just for Musk and Twitter stockholders, but also for the millions of Americans hoping that Musk will, as he promised, establish a "virtual town square" where all opinions are welcome.
A promise that frightens liberals used to shutting down opposing viewpoints –"misinformation"—on climate change or COVID-19, for example.
The Left is mad at Musk because he doesn't care about the rules set by social media companies, especially Twitter.
It has also earned him the respect of people who are angry about the political bias on Twitter, Facebook, and YouTube.
The bad news for Twitter is that data suggests that, contrary to what former CEO Jack Dorsey and other members of management have said, the company has a strong lean to the left.
In prepared remarks for Congress in 2018, Dorsey said, "Twitter does not use political ideology to make any decisions, whether it's about how we rank content on our site or how we enforce our rules."
Will there be a peaceful resolution? The courts usually rule in favor of the target firms and require acquirers to complete their transactions—a legal remedy known as "specific performance."
On the other hand, many businesses, on the other hand, seek to settle with their acquirers in order to stop the uncertainty about their future that might affect their employees, customers, and suppliers.
Simon Property Group Inc., the largest mall operator in the United States, was able to reduce the price of a controlling share in rival Taubman Centers Inc. by 18% to $2.65 billion.
Tyson Foods, the largest chicken processor in the United States, decided in 2001 that it no longer wished to acquire IBP Inc., the largest meatpacker. The transaction was ordered to be executed by a judge.
When the COVID-19 pandemic broke out in 2020 and caused a global economic crisis, this happened more often.
In one case, French retailer LVMH threatened to cancel an agreement with Tiffany & Co. The jewelry retailer in the United States agreed to reduce the acquisition price by $425 million to $15.8 billion.
In exchange for cash recompense, other corporations let the acquirers walk away.
Channel Medsystems Inc, a medical technology startup, sued Boston Scientific Corp for attempting to back out of a $275 million transaction.
A judge concluded in 2019 that the sale should be finalized, and Boston Scientific paid an undisclosed payment to Channel Medsystems.