Boris Johnson has called for a renewal of "the ties that bind our United Kingdom" ahead of his first visit to Scotland as prime minister.
During Monday's visit he will announce £300m of new funding for Scotland, Wales and Northern Ireland.
However, he said he wanted the UK to be "very outward going" and said there was "every chance we can get a deal".
Preparations for a no-deal Brexit are being ramped up, with Mr Johnson saying the UK must leave the EU by 31 October.
While in Scotland he also met First Minister Nicola Sturgeon and Scottish Conservative leader Ruth Davidson – both of whom have positioned themselves against a no-deal exit.
Two committees have been set up as the UK government intensifies preparations for a possible no-deal exit, including a "daily operations committee" of senior ministers.
Meanwhile, the pound has sunk to a 28-month low against the dollar, apparently due to concerns about Brexit.
Speaking at the Faslane naval base near Glasgow, Mr Johnson said his "assumption is that we can get a new deal", but said it was "responsible for any government to prepare for no deal if we absolutely have to".
'Withdrawal agreement is dead'
He said: "I don't want the UK to be aloof or hanging back, I want us to engage, to hold out the hand, to go the extra thousand miles, and what we want to do is make it absolutely clear that the backstop is no good, it's dead, it's got to go.
"The withdrawal agreement is dead, it's got to go. But there is scope for us to do a new deal.
"We will make it very clear to our friends – we're talking to the Irish today – what the limits are and what we want to do. We're very confident that with goodwill on both sides, two mature political entities, the UK and EU, can get this thing done."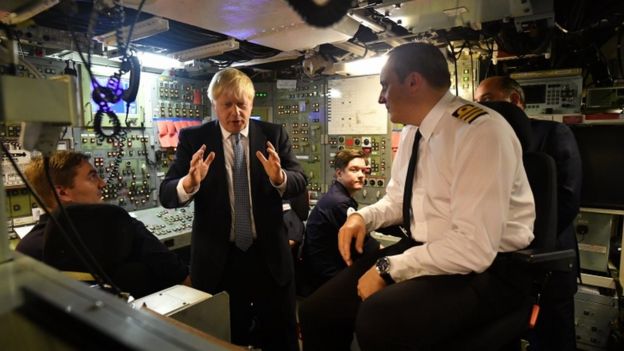 Mr Johnson also said he thought "Brussels was a bit baffled by what the UK position really was" during previous Brexit talks, saying the "backstop" arrangement to avoid a hard border on the island of Ireland would have seen the UK "being run by the EU".
'Strengthen the union'
Mr Johnson has faced scrutiny over his Brexit strategy from colleagues and opponents alike during his visit to Scotland.
Ms Davidson has previously said Mr Johnson had her "full support" in his efforts to secure a withdrawal agreement with the EU, but that she would not support a no-deal Brexit.
After a meeting at Holyrood, the Scottish Tory leader said the pair had discussed their "shared determination to strengthen the union", adding Mr Johnson had "made clear the government's preference is to leave the EU with a deal".
Mr Johnson, meanwhile, said he was Ms Davidson's "number one fan".
Ms Sturgeon – who hosted Mr Johnson at her official Bute House residence – has also pledged to fight against a no-deal exit, saying it would cost 100,000 jobs and "plunge the economy into recession".
Speaking after her meeting with Mr Johnson she said he had set the UK on an "almost inevitable path" to a "catastrophic" no-deal Brexit.
"He says he wants to get a deal, but what is not clear to me is how he intends to get from the very hard-line, fixed position that he's taken to a position where a deal is possible, if the EU also sticks to the very consistent position it has taken," she said.
"That makes me think that whatever Boris Johnson is saying about his preference being to strike a deal, in reality he is pursuing a no-deal Brexit."
She added that she had made clear to Mr Johnson her opposition to Brexit and no-deal and that the people of Scotland should be able to "choose their own future".
A No 10 spokesman said the PM told Ms Sturgeon he "was a passionate believer in the power of the Union" and "would work tirelessly to strengthen the United Kingdom and improve the lives of people right across Scotland".
Mr Johnson said his preference was to negotiate a new deal that abolishes the backstop – but the UK would be leaving the EU on 31 October "come what may", the spokesman added.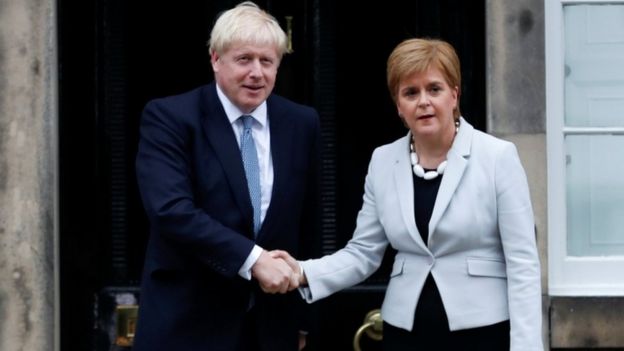 Mr Johnson also used his trip to Scotland to announce funding for projects to boost the economy in Scotland, Wales and Northern Ireland.
However Scottish Finance Secretary Derek Mackay claimed the £300m "isn't new funding" and was already under negotiation before Mr Johnson became prime minister.
Welsh Labour also hit out at the funding plans, calling them "very thin stuff"which would not make up for a "chronic lack of investment".
The UK government, however, insisted the money was new, with Scottish Secretary Alister Jack praising city deals as "helping to create jobs and boost local economies".
The growth deal plan comes after Mr Johnson announced a £3.6bn towns fund over the weekend, which will initially support 100 locations in England.
As part of his visit to Scotland, the prime minister also announced plans for a new Office for Veterans' Affairs within the UK government, to coordinate medical treatment and training and "ensure no veteran is disadvantaged because of their service".
The prime minister also plans to go to Wales to meet members of its farming community and Northern Ireland to discuss ongoing efforts to restore devolution at Stormont.