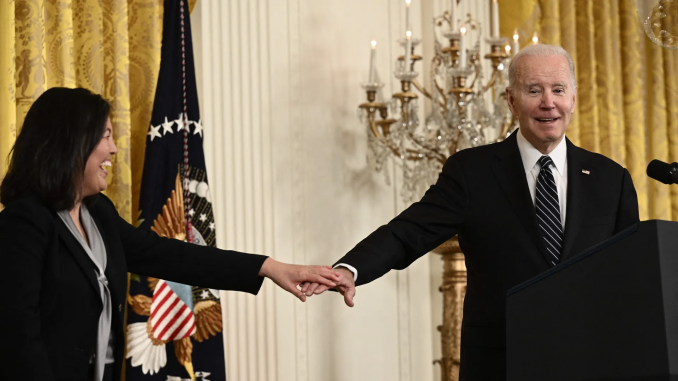 President Biden has nominated Julie Su as Labor Secretary, promising to prioritize workers' rights and create more equitable workplaces.
Su, who previously served as California's Labor Commissioner, is a renowned labor and civil rights advocate. Her nomination has been met with widespread support from labor unions and progressive groups.
Su's nomination comes at a crucial time for workers, who have faced unprecedented challenges due to the COVID-19 pandemic. The pandemic has highlighted the need for stronger protections for workers, particularly in low-wage industries.
Su has a proven track record of advocating for workers' rights, and her appointment signals a new era of worker-centric policies at the Department of Labor.
During her tenure as California's Labor Commissioner, Su oversaw the state's labor enforcement agencies and implemented policies to protect workers from wage theft and other forms of exploitation. She also played a key role in passing legislation to raise California's minimum wage and expand paid family leave.
Su's work has been recognized by labor unions and civil rights organizations, who praise her commitment to creating a fairer and more just society.
As Labor Secretary, Su will have the opportunity to further advance workers' rights on a national level. She has already laid out her priorities, which include increasing the minimum wage, strengthening worker protections, and promoting workplace diversity and inclusion.
Su has also emphasized the importance of supporting workers who have been disproportionately impacted by the pandemic, including low-wage workers and people of color.
Su's appointment has been praised by labor unions and progressive groups, who see her as a champion for workers' rights.
The AFL-CIO, the largest federation of unions in the United States, issued a statement in support of Su, calling her a "proven leader and advocate for working people." The National Employment Law Project, a nonprofit organization that advocates for workers' rights, also praised Su's nomination, calling her "one of the country's most respected and effective labor and civil rights advocates."
Julie Su's nomination as Labor Secretary is a promising development for workers' rights in the United States. With her extensive experience and commitment to creating a more equitable society, Su is well-positioned to advance policies that benefit workers across the country.