Angelina Jolie is back in facial prosthetics. While we're still months away from the sequel to Maleficent hitting cinemas, the first trailer for Mistress of Evil gives fans another glimpse of the magical Moor – leaf fairies, wallerbogs, and all. (Fear not, Knotgrass, Flittle and Thistlewit are back in action as well.) Yet, there's trouble in paradise: namely, the arrival of Michelle Pfeiffer as Queen Ingrith. Not much is known about the Scarface legend's character yet, beyond the fact that she's apparently a massive fan of withering stares and has a more-is-more approach to jewellery, but it's clear that she's up to no good.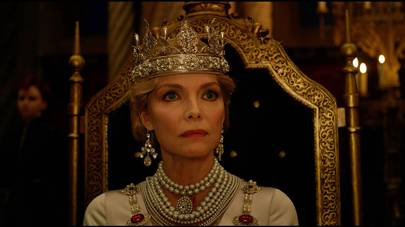 The question is, will she have a vindicating back story just like Maleficent? While the 2014 film brought another degree of complexity and relatability to the Disney villain, the sequel will centre on her joining forces with future queen Aurora (Elle Fanning) to protect their land and its magical residents. Noticeably absent from the trailer? Chiwetel Ejiofor, who is rumoured to be playing Maleficent's love interest. Given that a failed romance kickstarted Maleficent's narrative arch in the first place, he's likely to be a key character – without negating the message of female empowerment that defined the original blockbuster.
Watch the trailer in full
Maleficent: Mistress of Evil is in cinemas from October 18, 2019.
Source
Author: HAYLEY MAITLAND