Ford Motor Company has drawn out the next-generation Ranger coming from the second quarter of 2022, with more extensive changes and upgrades than previously thought.
Since the T6-generation midsize pickup went on sale in Australia and other markets for more than 11 years now and Ford is now finally replacing it. Adopting an evolutionary design with a Maverick-esque front fascia with C-shaped LED headlights, the new truck hides quite a few important changes underneath its oh-so-familiar skin.
The new generation Ford Ranger ute (and by default the jointly-developed, new-generation Ford Everest 4WD) will be able to adopt hybrid power.
In briefings about the 2022 Ford Ranger before unveiling of the new model, engineers revealed the chassis was revised to accommodate V6 power – and the eventual adoption of a hybrid option.
The Hybrid versions of the newly developed Ford Ranger and Ford Everest — engineered in Australia and manufactured in Thailand — are expected to be in overseas showrooms by 2024 in countries that have mandated strict emissions targets.
Given that there are restrictions on diesel emissions globally, and petrol-electric being the options in Europe and North America – huge bets are placed on a petrol-electric combination, particularly a 2.3-litre four-cylinder petrol hybrid offered in certain Ford vehicles in the US.
Therefore is unclear if the Ford Ranger Hybrid and the Ford Everest Hybrid will be petrol-electric or diesel-electric.
The global chief engineer for the new Ford Ranger, Ian Foston, said: "Certainly we've spoken to customers all around the world and there's clearly two big drivers for electrification (and hybrid technology).
"One is through customers who've often had ownership experiences in electric vehicles of some variety. And they're asking about when will pick-ups be available with that technology," he said.
"And there's also legislative requirements that have been applied in a number of markets around the world. So clearly there's a big future for (hybrid and electric vehicles) in every segment, trucks being one of them as well," Foston added.
And globally, its become obvious Ford could be the first in the mid-size pick-up market to adopt hybrid power in heavy duty workhorse and off-road vehicles.
Ford claims it has listened and learned from extensive owner and user feedback across the global markets in which the current Ranger is sold in, resulting in improved functionality, access and ease, especially for people below average height.
Ford could be the first in the mid-size pick-up market globally to adopt hybrid power in heavy duty workhorse and off-road vehicles.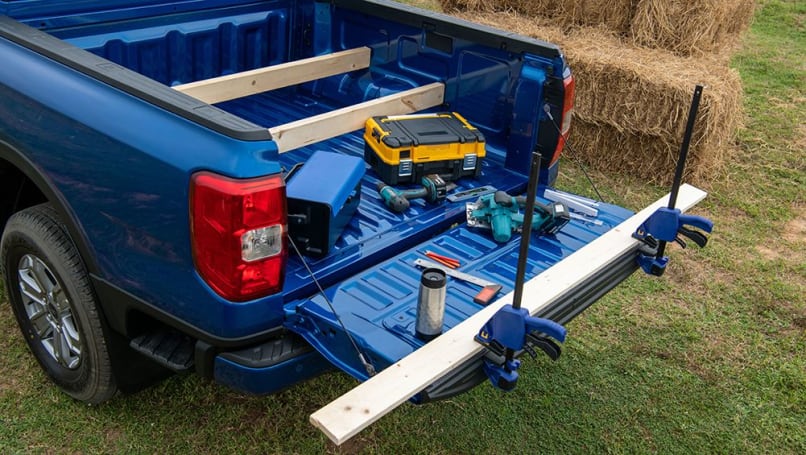 A new integrated box step is available to help with load-area reach. There are also redesigned tub rails that are now load bearing, improved tie-down points, an integrated workbench in the restyled tailgate, access to 240W sockets, new zone lighting right around the truck for better/safer nighttime vision and a moulded bed-liner with divider locaters, among other improvements.
Max Tran, chief designer for Ranger and based at Ford's Design Centre in Melbourne said "When we were out in the clinics, observing consumers interacting with their trucks, we noticed one challenge right away – when they were loading items into the beds many had trouble reaching over the side of the truck; others were standing on the rear tyre or the bumper to gain access"
"So we came up with the idea of a box step, placed strategically behind the rear tyre. We mocked one up, and the response was overwhelming," he said.
With features adapted from the F-Series trucks, the tailgate has also come in for some clever engineering with clamping points, a ruler and cupholder built-in for those who utilize this horizontal space as a work bench. 
Ford will assemble the 2022 Ranger from early next year at its factories in Thailand and South Africa in Extended Cab and Super Cab body styles. Meanwhile Europeans won't be able to order one until late 2022 and the first customer deliveries on the Old Continent will commence at the beginning of 2023. We've reached out to learn about the truck's launch in the United States, but a spokesperson only told us the company will disclose details about availability in North America at a later date.